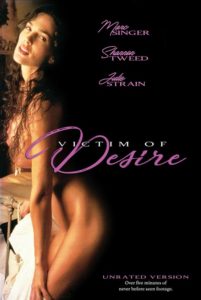 ---
An SEC agent investigating $70M in missing funds and a murdered businessman gets involved with the man's wife.

Investigator Pete Starky is hot on the trail of $70 million in embezzled cash. The trail leads to Leeland Duvall, a wealthy white collar killer. But when Duvall dies in a mysterious car accident, the victim's sexy wife, Carla, becomes the prime suspect. Just as Starky becomes romantically involved with Carla, evidence points to him as her accomplice in the murder. Is he innocent, or just a victim of desire?
|
Cheating Notes
Linda (Julie Strain) seems to be the girlfriend of Richard (they call each other lover on the phone, but could be part of their scheme and not really true). They conspire to defraud Leland Duvall, whose wife is Carla Duvall (Shannon Tweed). Part of their scheme is for Linda to get info from Leland and her way of getting that info is by seducing and fucking him.
(spoiler) Carla gets into an affair with the SEC agent after her husband dies in a mysterious car accident. They have sex at least two times. But it turns out that Carla's husband is actually alive as shown in the latter part of the film.
Watch Full Movie Online
via Youtube (cut)
via Ok.Ru (uncut, Russian dubbed)
---
---
---