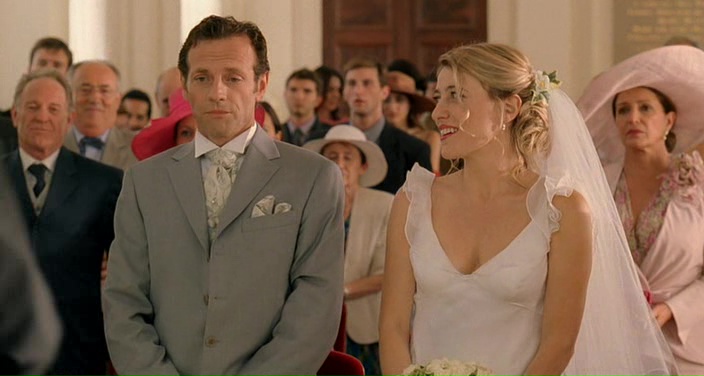 Description
The end and beginning of the love of the French couple Marion and Gilles is disclosed backwards through five moments in their lives: 1st moment: They divorce and have one last brutal intercourse without love. 2nd moment: With their relationship shaken, they have a dinner party with Gilles's gay brother Christophe and his younger mate, when an infidelity is disclosed at the dinner table. 3rd moment: The troubled pregnancy of Marion and the delivery of their premature son Nicolas, with the total absence of Gilles. 4th moment: Their wedding, when Marion commits adultery with an unknown guest of the hotel. 5th moment: When they meet each other in an Italian resort and begin their relationship.
Details for the movie 5×2 (2004)
Other Titles: Five Times Two, 5 x 2 – Cinq fois deux, Nous deux
Director: François Ozon
Starring: Valeria Bruni Tedeschi, Stéphane Freiss, Françoise Fabian, Géraldine Pailhas
Country: France
Language: French with English Subtitles
Cheating Scenes in 5×2 (2004)
On the night of her wedding, Marion is about to have sex with her husband in their hotel room. She goes inside the bathroom and when she comes out, she is in her panties and bra, ready to give her husband a strip tease. Her husband, however, has fallen asleep.
So Marion comes out of the hotel to get some air. She even sees some remaining guests in her wedding reception in the reception hall of the hotel, but she doesn't bother them and instead proceeds to an isolated spot beside a lake. She sits there alone for a while, then an American male comes along. He says he's a guest of the hotel. He offers her some cigarettes which she accepts.
While Marion is smoking, the American starts looking at her lustfully. She becomes uncomfortable and starts to leave. He stops her, pulls her towards him and starts hugging and kissing him. Marion starts resisting, but gradually she succumbs and starts to respond to his kisses. He kneels down and starts caressing and kissing her lower body. She slowly lowers herself down and starts passionately kissing him back. The scene cuts off, but they probably have full-on sex.
After that, Marion comes running to the hotel room to her husband. She feels really guilty that another man's tongue (and probably his dick) was just in her mouth (and probably in her pussy) so she tries to shake it off by hugging her sleeping husband tightly and repeatedly saying "I love you" to him.
More info for 5×2 (2004)
IMDB Info: IMDB
Info + Torrent Download Link: Torrentz2.eu