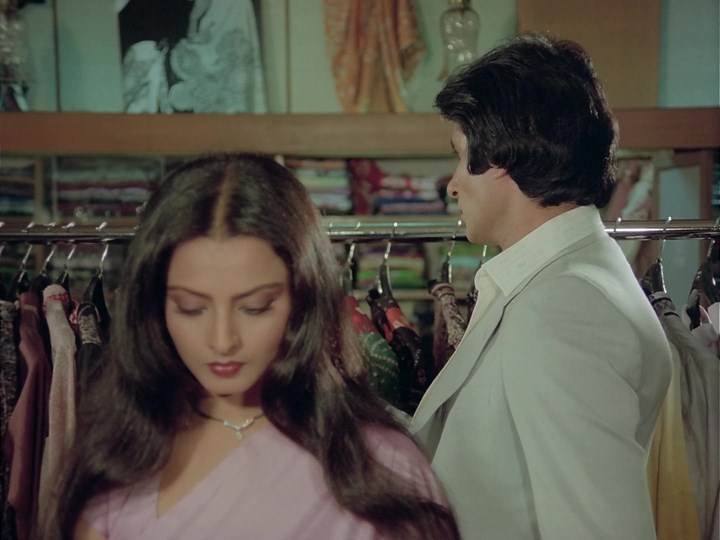 Description
The playwright Amit (Amitabh Bachchan) decides to bury his past life along with his love for Chandni (Rekha) when he fulfills his duty by marrying Shobha (Jaya Bachchan), the fiancee of his brother who just died. Shobha is carrying the child of Amit's brother so he will marry her to preserve her honor. When fate brings Amit and Chandni face to face again, both are married to different people – but neither can ignore their feelings for each other. SILSILA is a story, thwarted by society's demands, which reappear as adultery but can it survive in the face of society?
Details for the movie Silsila (1981)
Director: Yash Chopra
Starring: Rekha, Amitabh Bachchan, Shashi Kapoor, Jaya Bhaduri
Country: India
Cheating Scenes in Silsila (1981)
Shekhar, Amit's brother, is about to marry Shobha but he died in the line of duty. Shobha is pregnant with Shekhar's child and she will be shamed if her child is brought into this world without a husband. Hence, Amit marries her to save her honor. But this would also mean that Amit has to let go of his girlfriend and true love, Chandni. Chandni is heart-broken and marries somebody else.
Amit and Shobha get married. Several months into their marriage, they get into a car accident. Shobha has a miscarriage. The doctor who attends to them in the hospital is Dr. Anand, the husband of Chandni. Thus, through Dr. Anand, Chandni and Amit meet once again.
Dr. Anand seems to be the non-jealous type of husband. For example, when Chandni brings flowers to Amit at the hospital, he doesn't think of it much. Or when Amit is repeatedly asking why he didn't bring Chandni along when he invites him for lunch later, he doesn't get suspicious of Amit's feelings for his wife.
Chandni and Amit meet and date several times. First, Chandni is reluctant to rekindle their relationship, but soon she gives in. They meet and kiss several times, but there are no sex scenes between them.
Amit and Chandni gets nearly caught
One night after dating, Amit and Chandni run over a kid while driving. They are taken to the police station and Amit introduces Chandni as his wife. The police chief calls Dr. Anand to check on their physical injury, but Amit and Chandni are able to leave the station before he arrives. Dr. Anand finds out from the policemen that it is Amit and his 'wife' who had an accident, but he thought that Amit's companion was Shobha instead of his own wife Chandni.
The two couples have dinner together. Amit asks Chandni to dance with him and they go to the dance floor. Dr. Anand and Shobha are a bit shocked for his boldness, but Dr. Anand just jokingly tells Shobha how strange Amit's custom is of dancing openly with other men's wives.
During a spring festival, Amit dances and sings with Chandni in front of Dr. Anand and Shobha. He becomes too flirty with her. He even teases Dr. Anand by referring to Chandni's lovers a lot in the lyrics of his song, and subtly pointing to himself as that lover. Dr. Anand and Shobha notice these flirtings between Amit and Chandni so their laughs are almost gone at the last part of the dance.
Because of Amit and Chandni's dance and song routine, Dr. Anand and Shobha confirm their suspicion that something is going on between the two. But Dr. Anand doesn't want to confront his wife directly. He just reminds her that if she has a past, then it's best preserved in memories or she'll likely ruin her life and someone else's.
Dr. Anand urges Shobha to fight for herself. Hence, Shobha talks to Chandni to ask her to leave Amit alone. Chandni refuses, saying she can't control her feelings.
In the end, Amit saves Dr. Anand from a burning plane and learns that Shobha is pregnant with his child. He does the right thing and stays with Shobha, while Chandni also stays with her husband.
More info for Silsila (1981)
IMDb Info: IMDB
Info + Torrent Download Link: Torrent