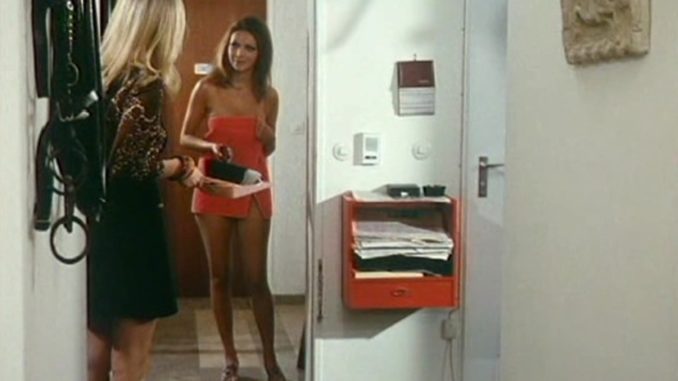 Description
A documentary-style sex comedy about bored and sexually unsatisfied housewives and what they do while their husbands are at work.
Details for the movie Swinging Wives (1971)
Other Titles: Der neue heiße Sex-Report – Was Männer nicht für möglich halten, The New Hot Report: What Men Don't Think Is Possible
Director: Ernst Hofbauer
Starring: Astrid Frank, Eva Garden, Karin Götz, Marlene Rahn
Genre: Comedy, Classic Erotica
Country: Germany
Language: German, English Dubbed
Cheating Scenes in Swinging Wives (1971)
There are several stories told in this movie. Some of the wives are pretty hot.The German version (which has no subtitles) has more scenes than the English dubbed version, including a whole segment about a wife cheating with a female lover. A shame, since the female lover is sexy and hot.
First is the story of the couple Carol and Jack. They are very passionate in the first stages of their marriage, getting to bed as soon as Jack comes in from work. However, after a while, Jack gradually loses interest even if his wife welcomes him on the door with nothing on but her panties. Carol attends their neighbor's party. Jack wouldn't come because he doesn't like their neighbor's kind. It turns out he's right because Carol finds herself in a swinger's party. A situation develops where she has to run out of the apartment with her top off. Her husband arrives and finds her without her top outside their door, so he forms his own conclusion as to what happens without initially listening to the wife's explanation.
A rich man's wife gets a sensual massage from a handsome, muscular man. She gets fully naked and the man's hands are all over her.
Four housewives play cards in the nude when the delivery man arrives.
A daughter screws her mom's lover.
A wife fucks her husband's best friend because he is sophisticated and a gentleman. But when she gets serious with him and tells him that she will divorce her husband to be with him, she's in for a surprise.
A student doing part-time as a mailman fends off sexual advances from a housewife.
A housewife fakes vaginal pains and calls a gynecologist to come to her house and check her vagina. She moans when the doctor probes her vagina with his fingers. But the doctor is very professional and does not succumb to her seduction. The last scene is a cliffhanger as the husband is seen arriving at the door while the wife is currently naked from her waist down and sobbing at the lap of the doctor which looks like she's giving him a blowjob. In the German version, this scene is extended while in the English dubbed version, the scene is only up to the husband entering the door.
A travelling salesman bangs a housewife. He has dirty magazines with him and pretends to accidentally show it to the wife to see her character. She does not throw him out, so he's in, and screws the wife on the couch. He also gets a few subscriptions from her.
A wife is encouraged by a friend to get a side job so that she can afford nice things like her. Her husband screws prostitutes. One time, the prostitute that he is fucking suggests that she bring in another girl so that they can have a threesome. The husband agrees so the prostitute calls in the second girl, and surprise, surprise, guess who it is?
This segment is found in the German release only. A sexy female sees her neighbors, a couple, fighting while she is sunbathing nude on the roof of their building. When the husband leaves, she comes down and knocks on the door of the wife, wearing nothing but a skimpy red towel wrapped around her body. She asks her to apply sunscreen on her back and then they have sex.
More info for the movie Swinging Wives (1971)
IMDb Info: IMDB
Info + Download Link: Rarelust.com