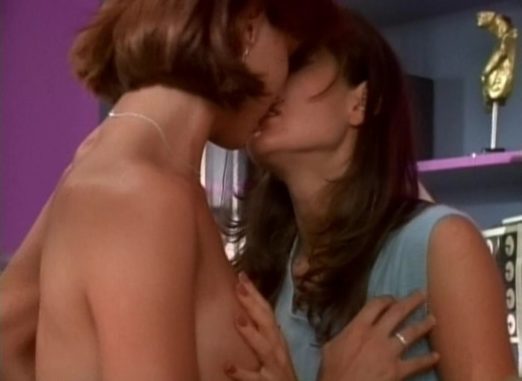 Description
An inhibited actress finds motivation by spying on a next-door neighbor's erotic activities.
Details for the movie Allyson Is Watching (1997)
Director: Mike Sedan
Starring: Jennifer Hammon, Caroline Ambrose, James Horan, David Andriole,
Genre: Drama, Erotica, Thriller
Country: USA
Cheating Scenes in Allyson Is Watching (1997)
Allyson leaves her boyfriend Peter to go to an acting academy in Los Angeles, but she doesn't break up with him. In Los Angeles, she rents a room in an apartment building from Mr. Merry. Her next door neighbor is Bridget, a prostitute. On the first day, she hears Bridget having sex with someone through the wall. She gets aroused and touches herself.
Allyson goes to the acting academy and meets her class teacher, Eric Constantine. Apparently, she's a fan of him and even asked for his autograph when he did an acting tour in her town ages ago.
Back at her place, Allyson is able to see Bridget servicing her client through a keyhole. She touches herself again while watching.
Allyson is not ready to cheat yet
During her first day of class, Jerry, Bridget's classmate, hits on her. He invites her to do a photo session with him. During the photo session, he is able to make her show her breasts for the camera. He goes on top of her and starts kissing her on the neck, but Bridget tells him to stop and walks away.
On their next class, Jerry and Bridget are paired together to do a kissing scene. Bridget goes all out in kissing Jerry. It seems that she does kinda like him, but since she's still loyal to her boyfriend and therefore can't fuck him, she takes this chance to kiss him for real and it won't technically be cheating since it is for her acting class.
Allyson befriends Bridget and asks her about the art of seduction since it is helpful for her acting class. Bridget stripteases in front of her then sits on her lap. She is about to kiss her but Bridget stands up and reasons that she has to go to work.
Bridget invites Allyson to come and watch her have sex with a client on a bar. She accepts the invitation and touches herself while watching them.
Allyson takes Jerry to her room so that they can rehearse a script where she plays a prostitute. Jerry tries to take advantage and starts kissing her for real. She resists him. Jerry has had enough of her cockblocking and starts raping her. Bridget comes in and saves Allyson with her karate skills.
Allyson finally decides to cheat
Allyson hangs out with Bridget in Bridget's room. It ends up with them having sex.
Allyson takes her teacher, Eric, to her room to rehearse a scene. The scene is also a sensitive one involving some kissing, but unlike with Jerry, it's Allyson this time who initiates real kissing. Eric hesitates and asks her if it's ok since he knows what Jerry tried to do to her and she might still be traumatized. Allyson says yes, so he starts kissing her back and they fuck. Allyson gives her teacher some good fucking while her boyfriend is rotting back in her hometown.
At the end part of the movie,  Allyson makes her boyfriend promise that they'll stay together no matter what happens. Her boyfriend says yes, but that's because he doesn't know that her girlfriend is a cheating slut who fucked not only her prostitute neighbor but also her teacher.
More info for Allyson Is Watching (1997)
IMDb Info: IMDB
Info + Download Link: Rarelust.com