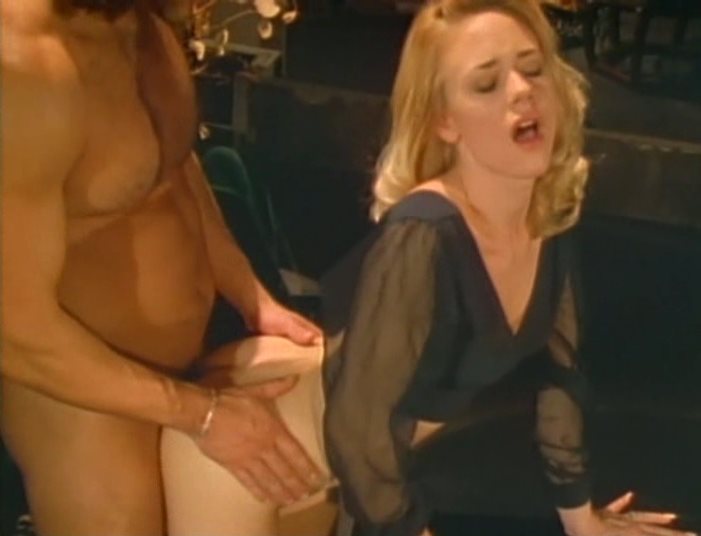 Description
The couple Leo and Luna picks up other women to have sex with them. Luna wants this setup because she likes to have sex with women and not men. Their relationship is kind of weird as they are together, but they really don't have sex with each other. One of the women they pick up is Daisy, who has commitment problems with her boyfriend. Leo starts falling for Daisy so complications ensue.
Details for the movie American Blonde (1994)
Director: Paul Thomas
Starring: Janine Lindemulder, Kaitlyn Ashley, Misty Rain
Genre: Adult
Country: USA
Swinging and Cheating  Scenes in American Blonde (1994)
Rob is telling his girlfriend Daisy a story about his first time while he is fucking her to arouse her. He says that he first did it with a couple. The man watched him fuck the woman, then also fucked her after.
Meanwhile, Luna and Leo go to a bar to pick up women they can have sex with. They manage to hook up with a lesbian couple. Leo watches Luna get it on with the two girls. When he tries to join, Luna shoos him away. The poor guy has to sleep it off while his girlfriend is having some lesbo action with two girls.
On their next trip to the bar, Leo and Luna manages to hook up with Daisy, who is there because she wants less of her boring boyfriend and wants to try some new experiences like a threesome.  They bring her home. Leo starts working on Daisy, but Luna rudely takes her away from him and starts making love to her on the couch.
After a while, Daisy leaves Luna on the couch and comes back to Leo. It seems like she wants dicks more than pussies. Luna looks disappointed. Daisy starts sucking Leo's dick while Luna starts pleasuring herself while watching them. Leo fucks Daisy from behind and cums on her mouth.
After that, Luna pulls Daisy back to her side. Now that Daisy has had her fill with Leo's dick, she is more open to lezzing (lesbianing) so she follows Luna on the couch and eats her pussy. She puts a strap-on dildo and fucks her.
The next day, Daisy asks Leo why she never touched Luna while they were making love. Apparently, it's the nature of their relationship. Luna does not want sex with men. Daisy and Leo kiss and Luna starts getting jealous at this point.
On a Saturday night, Daisy ditches her boyfriend early so that she can go to Leo and Luna's place. Luna seems ok with it at first but gets jealous when, after the three of them had sex and she wakes up in the middle of the night, she finds Daisy and Leo embracing each other while lying beside her.
Luna asks Leo if he is falling for Daisy. He asks her, isn't that what they wanted, a woman they can both love? She corrects her and says "a woman they can both fuck, not love." She freaks out even more when Leo offers to drive Daisy home in the middle of the night.
After a few days, Luna contacts Leo on the phone. Daisy answers and tells her that Leo does not want to talk to her. So Luna goes to the bar to pick up women by herself. She hooks up with a couple and makes love to the woman. The man can touch and fuck his girlfriend, but not Luna.
In the morning, Leo comes home and witnesses Luna in bed with the couple. He tells her he's just going to get his things and then he leaves. Luna is frustrated and in an act of desperation, invites the couple to live with her and promises them sex with new and different people every night.
More info for American Blonde (1994)
IMDb Info: IMDB
Info + Download Link: Rarelust.com