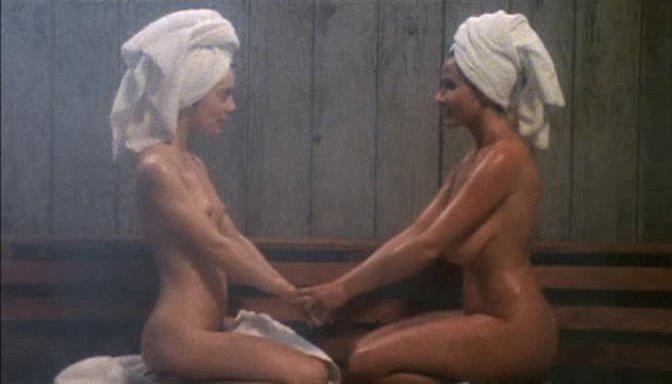 Description
A psychology professor relates the 10 most common sexual fantasies of females based on his case studies.
Details for Fantasm (1976)
Other Titles: World of Sexual Fantasy (USA), Fantale, Fantasma
Director: Richard Franklin (as Richard Bruce)
Starring: John Holmes, Uschi Digard, Candy Samples
Country: Australia
Hot Scenes in Fantasm (1976)
"Beauty Parlour"
Abby is married but not quite happy. She has a thing for her hairdresser. This segment shows us her fantasy of being naked while her hair and face and nails is being worked on be several guys, including the hairdresser he has a crush on. They shave her pubic hair and tweak her nipple which makes her moan with delight and orgasm.
"Card Game"
-Hot-
Barbara's husband and his friends along with their wives are playing poker in their house. The husbands play the cards while the wives serve as the bargaining chips. When one husband wins, he gets to suck on the tit of one of the wives. Barbara's husband loses several times so she takes off several pieces of her clothes as well. Her husband's friend keeps touching her leg under the table. That friend wins and he brings her to the couch and makes out with her there, sucks her nipples, and eats her. Barbara's husband is seen in the background being very busy with the game and doesn't seem to be bothered that his wife is getting screwed on the couch.
Barbara's husband loses again to another friend, and this friend takes his turn with her. This one bangs her in the rocking chair. At one point the friend lays her down properly in the rocking chair and Barbara looks at her husband as if saying 'Hey, look at what your friend is doing to me, are you sure it's ok with you?'
Then there's an orgy after, with all three husbands and three wives joining in.
"Wearing the Pants"
Gabrielle is a bored housewife. While pleasuring herself, she sees her neighbor stealing her underwear from her clothesline and wearing them. She pretends to be angry and brings him inside her home where she "punishes" him. Some whipping ensues, then she fucks him in the ass with a dildo while he is wearing her panties and bra.
"Nightmare Alley" (non-wife)
Felicity gets raped by a black boxer in the ring. It actually turns her on and during the next round she initiates the sex herself. The boxer continues to give her violent sex though, and ties her using the ropes of the ring and bangs her while she is hanging by the ropes.
"The Girls" (non-wife)
-Hot-
Francine who has small breasts, makes love to a woman with big breasts in a steam room. Hot because of the big breasted woman.
"Fruit Salad"
Imogen's husband is away on business. She applies lotion on her naked skin and pleasures herself. Then she sucks a banana like it's a dick. A guy with a huge, uncircumcised dick suddenly appears from her pool and sits besides her. She likes what she sees and smiles. She continues on sucking the banana while looking at the guy's huge dick. He spreads fruits and whipped cream on her body and licks them off her. Then they bang in the pool, him eating her and her sucking his dick underwater.
"Mother's Darling"
Bellle is a middle-aged, big-breasted woman who welcomes his son home from the war by giving him a bath personally and then banging him. Not sure if her husband is still around.
"Black Velvet" (non-wife)
Call-girl Celeste imagines herself as a stripper in order to tease her clients.
"After School" (non-wife)
Harriet dreams of getting back at her high school teacher by teasing him with her huge boobs but not letting him touch.
"Blood Orgy" (non-wife)
Zelda fantasizes about getting it on with a Satanic priest at her local church.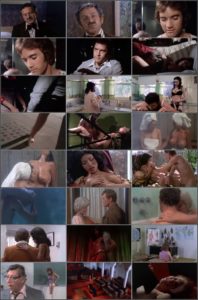 More info for Fantasm (1976)
Caution: Aside from additional information for Fantasm (1976), the links below may contain download links. I am not responsible how you will use them.
Info: IMDB
Info + Download Link: Rarelust.com