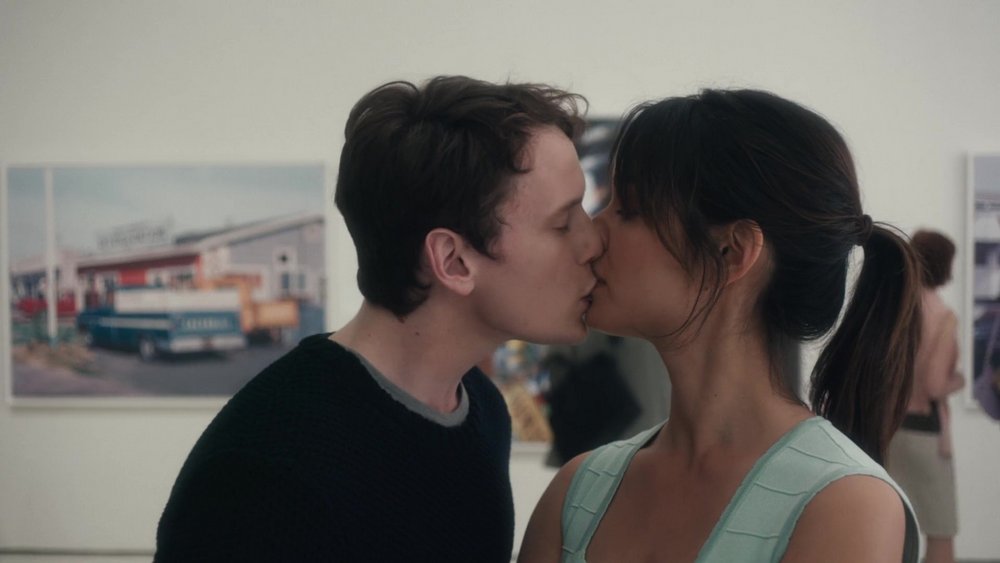 Description
An aspiring novelist enters into a relationship with a woman, though there's just one catch: She's married, and the couple can only meet between the hours of 5 and 7 each evening.
Details for the movie 5 to 7 (2014)
Director: Victor Levin
Starring: Anton Yelchin, Bérénice Marlohe, Olivia Thirlby
Country: USA
Cheating Scenes in 5 to 7 (2014)
One Friday, Brian Bloom (Anton Yelchin) talks to Arielle (Bérénice Marlohe) while she is smoking on the sidewalk. She is French and a hottie. They hit it off and agree to meet again next Friday in the same spot. When they meet again, Brian asks Arielle out. She agrees, but they can only meet during the hours of 5 P.M. to 7 P.M.
So they start dating during 5 P.M. to 7 P.M in the following days. Inside a museum, Brian kisses Arielle on the lips briefly when she challenges him to prove if America is alive.
While they are walking, Arielle reveals to Brian that she is married to a French diplomat. He is shocked and disappointed because she seems to be open to having relations with him and yet she doesn't wear a wedding ring or show any indication that she is married. She tells him that yes, she is open to having relations with him even if she is married. Her husband knows about it and he also has a mistress himself. She adds that the code 5 to 7 is actually a clue because, in French, it's a code for relationships out of marriage.
Brian doesn't want to go in a relationship with a married woman at first, but in the end, he can't resist so he agrees to the arrangement that Arielle wants and they fuck several times on several occasions in a hotel room of her choosing (no sex scenes, just kissing). The hotel room, it seems, is there in advance in case Arielle happens to hook up with somebody.
One day, Arielle's husband, Valery, meets Brian. He tells him that he knows about his relationship with his wife and that he is ok with it. He even invites him to have dinner with his house along with their friends.
Brian gets close to Arielle's family that she even asks him one time to babysit for her two kids.
Brian falls in love with Arielle and proposes to her one day after they have sex in the hotel room. Arielle doesn't know what to do so she tells him to be there in the hotel room tomorrow. Arielle's husband comes up to Brian's apartment that night and slaps him. He tells him that they have a nice setup going on and yet he wants to ruin it. But, he gives him a check worth $250,000 dollars and tells him to take care of his wife. So it seems that Arielle is really contemplating what to do and she is open about it to Valery. Valery, meanwhile, is also open to what she will ultimately choose if that will make her happier.
In the end, Arielle chooses to stay with Valery. Brian is heart-broken and proceeds not to see her again because that is what she wanted. After several years, Brian is already married and has a baby. While with his family, he meets Arielle again (also with her family). While Brian's wife and Arielle's husband are talking, Arielle silently removes her glove and shows Brian that she is wearing the wedding ring that he gave to her on the day that he proposed to her. They smile at each other and they go on separate ways along with their respective families.
Final Thoughts
Arielle is a hot French wife with a beautiful face and a great smile. She should have taken her clothes off in this movie as it seems that she's packing some huge racks behind those clothes.
More info for 5 to 7 (2014)
IMDb Info: IMDB
Info + Torrent Download Link: 5.to.7.2014.720p.BluRay.x264.YIFY