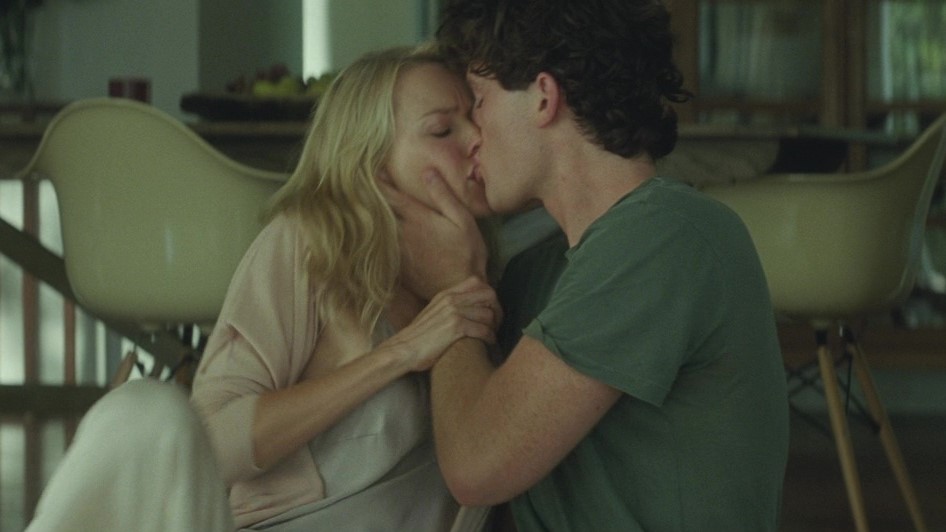 Description
A pair of childhood friends and neighbors fall for each other's sons.
Details for the movie Adore (2013)
Director: Anne Fontaine
Starring: Naomi Watts, Robin Wright, Xavier Samuel
Country: Australia
Cheating Scenes in Adore (2013)
Lil (Naomi Watts) and Roz (Robin Wright) are best friends since childhood and continue to be so even after they got married. Lil's husband dies early in the movie while Roz remains married for a while. Lil's son is Ian while Roz's son is Tom.
Roz's husband goes away to Sidney for two weeks. Lil, Ian, Roz, and Tom have some drinks in Roz's home one afternoon. Lil starts dancing and Tom joins him and they get a bit touchy with each other. When night comes, Lil tells everyone she's going home while her son Ian says that he's going to stay and sleep at Roz's and Tom's house tonight (he always does this so it's normal).
Later during the night, Ian comes out of his bedroom and encounters Roz in the hallway. Roz asks him if he has everything he needs. Ian answers no, then kisses her. Roz hesitates a bit, but then starts kissing him back. They make out in the hallway.
Tom wakes up a little later and witnesses her mom coming out of Ian's room with her pants in her hand. He does not make a scene but silently comes down to the beach to think and falls asleep there. In the morning, he wakes up and walks to Lil's home. He catches her making breakfast. She lets him in with that great MILF smile on her face.
Lil and Tom sit beside each other and talk. Lil tells Tom that they are gonna miss him when he goes off to Sidney to act. Tom grabs this chance and tells her that he'll miss her (with emphasis on the word 'her'), then he tries to kiss her. He is able to put his lips on hers for a bit, but Lil moves away from him. She tells him what if Ian walked on them. Tom answers that if that's all she's worried about, then it's ok because he saw his mom Roz coming out of Ian's bedroom last night with her jeans in her hand.
Lil processes this new information about her son and her best friend the whole day. She gives Roz an emotional look in their office (they're co-workers) but she does not confront her. When she goes home later, Tom is waiting for her in front of her house. He asks her if she can stay there for the night, she says yes. In the middle of the night, Tom comes out of his bedroom and lies beside Lil in her own bed. Lil is aware of this but she pretends to sleep. Nothing happens between them in the evening. But in the morning after Tom wakes up, he starts caressing Lil's arm. Lil slowly turns around and they kiss. Tom runs his hand all over Lil's body. Lil goes on top of Tom while they continue kissing passionately. The scene cuts off but we can certainly assume that they have full-on morning sex.
After fucking Lil, Tom comes home and his mom Roz asks him where he'd been. He answers he was at Lil's, "doing to her what Ian's been doing to you." Roz slaps him.
Lil and Roz talk and agree that they have to stop fucking each other's son. Lil tells this to her son Ian. Ian comes to Roz's house to talk to her. Roz tells him that it's over and that he should leave. Ian walks away to another part of the house. Roz follows him and tells him again to leave. They hug, then they start kissing. Ian put Roz against a wall, removes her panties, and starts fucking her in a standing position.
Recommendation
The sex scenes between the two pairs of mothers and sons are quite erotic. Even if Lil is not technically cheating because she's already a widow when she starts fucking Roz's son, it still feels that she does, probably because she (Naomi Watts) is a certified hot MILF and her sexual relations with her best friend's son is still considered taboo.
More info for Adore (2013)
IMDb Info: IMDB