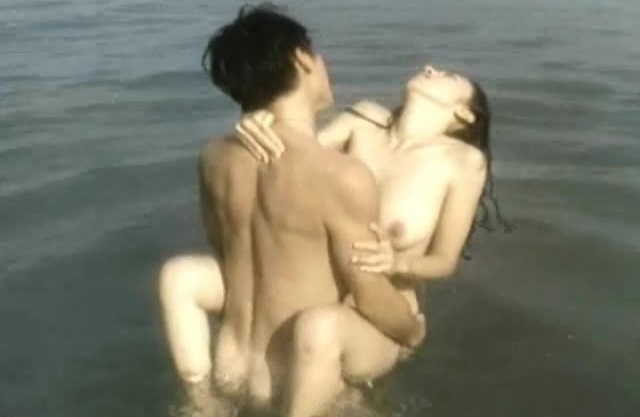 Description
HK businessman Kiu doesn't have time to woo a girl. On a trip to Saigon, he offers financial help to poor girl Shun's family if she'll come and live with him. With a sense of duty but no love, she agrees, too timid to even tell boyfriend Lik just after losing her virginity to him. Love fails to blossom between Shun and Kiu in HK, and Kiu starts to drink heavily. Sandy, Kiu's luscious secretary takes advantage and gets it off with him in the gym and disgusts Shun in the process. Shun gets drunk and is picked up in a bar, nearly raped, and rescued then befriended by a fellow Vietnamese, a photographer, in what is clearly a setup. Turns out Sandy is behind this ruse as well, to get Shun out of the way and have Kiu all to herself. But things don't go according to anyone's plan. Will Shun give up Kiu and his money to go back to Lik?
Details for the movie Vietnamese Lady (1992)
Other titles: 她來自胡志明市
Director: Ka Ka
Starring: Gwok Yee-Lee, Melvin Wong Gam-San
Genre: Drama, Asian Erotica
Country: Hong Kong
Language: Cantonese/English Subs
Cheating Scenes in Vietnamese Lady (1992)
Mr. Kiu discovers the poor but hot young lady Shun (Gwok Yee-Lee) in the streets of Vietnam and practically buys her off from her family. She has a boyfriend that time but leaves him without even saying goodbye to fulfill her duty to Mr. Kiu. Mr. Kiu brings her to Hong Kong.
One day, Mr. Kiu intercepts Shun's letter addressed to her ex-boyfriend. It seems that she still loves her ex so Mr. Kiu starts to drink heavily. While he is drunk one day, one of his female workers take advantage and have sex with him in the gym room while he is semi-unconscious. Shun witnesses this and goes to a bar alone to drink.
At the bar, a guy starts hitting on Shun. She becomes drunk and the guy brings her to his van in the parking lot and attempts to rape her. He is able to take her clothes off and is about to fuck her from behind when another guy comes and saves her.
Shun's savior brings her to his office. It turns out that he is a photographer. She starts posing for him and starts getting horny, so she starts showing off her goods to her while he continues on shooting her. She mounts him and they have sex.
The next day, Mr. Kiu asks their servant where Shun is. She tells him that Shun left early that morning. Apparently, Shun joins the photographer to play tennis with him in a closed court. They have sex on the floor of the court.
Mr. Kiu has a dialogue with his female worker lately and we find out that he has an idea that he is being cuckolded by Shun, but that he doesn't care.
It turns out that the photographer's plan is to seduce Shun so that he can have pictures of her naked and fucking. He uses these photos to blackmail Mr. Kiu and asks him for money. Mr. Kiu, despite his wife cuckolding him, agrees to pay for the film negatives and is able to take possession of them after some violent confrontation with the photographer and his henchmen (apparently they want more money for it).
Because of what Mr. Kiu did, Shun learns to love him too and chooses to stay with him instead of going back to her ex-boyfriend.
Recommendation
Gwok Yee-Lee is hot and her cheating/sex scenes in this movie are quite hot too. Check her out in her other cheating film, Indecent Beast (1994).
More info for Vietnamese Lady (1992)
HKMDB Info: HKMDB
IMDB Info: IMDB
Info + Download Link: Hotxshare.com