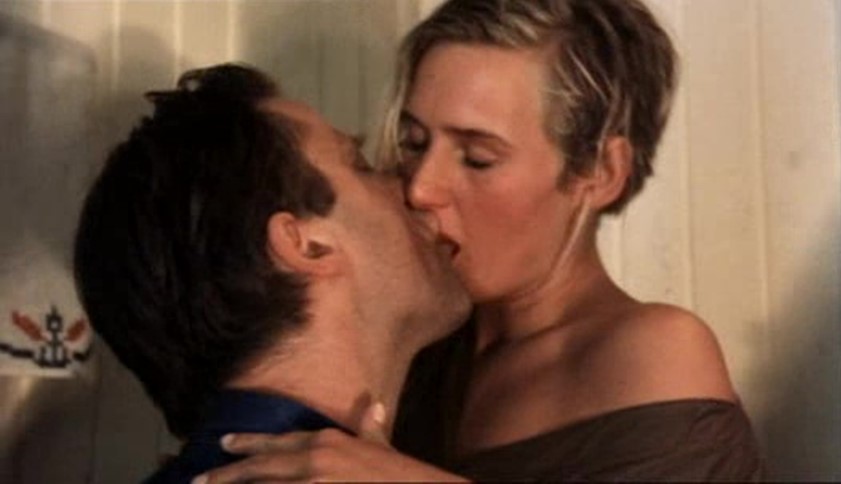 Description
Einar and Bjørn leave Lene on the island for a fishing trip. Then her former lover, Gaute, drops by unexpectedly. Drunk, he sleeps in the double bed. Lene sleeps on the couch and wakes up when the men come back. She tries to wake Gaute, but then discovers that he's dead.
Details for the movie Hodet Over Vannet
Director: Nils Gaup
Starring: Lene Elise Bergum, Svein Roger Karlsen, Morten Abel
Country: Norway
Language: Norwegian with English Subtitles
Cheating Scenes in Hodet Over Vannet
Lene and her husband Einar go on a vacation on an island. Bjorn, Lene's childhood friend, is also with them but he is staying on a separate cabin. One day, while Einar and Bjorn are out on a fishing trip, Lene's ex-lover, Gaute, arrives. Gaute tells Lene that he sent them a postcard a couple of days ago to tell them that he'll be arriving, but she tells him that they did not receive it.
Lene and Gaute drink until night comes. Gaute tells Lene that he broke up with his girlfriend. Later in the night, we see Gaute come behind Lene, hug her, kiss her in the neck and put his hand over her breast. There's a feeling of reluctance and confusion on Lene's face, but she doesn't remove herself from Gaute's embrace outright. The scene cuts off after that so we don't know what happens next.
In the morning, Gaute is lying fully naked on Lene and Einar's bed. Lene, meanwhile, wakes up on the couch and is fully clothed. Lene hears the horn of the boat that Einar and Bjorn used on their fishing trip. She panics and tries to wake up the fully naked Gaute, but she finds out that he's dead.
Did Lena fuck Gaute last night?
Lene explains to her husband later that Gaute is naked on the bed because he took all his clothes off when he went for a swim, and then he was drinking nude after that (or at least according to how Einar asked it). Lene adds that she went out to fetch Gaute's clothes but when she came back, he was already asleep in their bedroom, so she slept on the couch instead.
Sure, Lene's version may be what really happened, or maybe she really did fuck Gaute. After all, Gaute is heartbroken and is very open to fucking exes as indicated by his copping a feel of Lene's breasts last night. And Lene didn't exactly remove his hand from her breast right away. She may have snuck out of the bedroom after they have sex, put her clothes back on and slept on the couch so that she won't be caught red-handed by her husband in case he comes home unexpectedly.
Final Thoughts
Lene is swimming topless in front of Bjorn and her husband seems to be ok with it. I guess it's one of those European things.
More info for Hodet Over Vannet
IMDb Info: IMDB
Info + Torrent Download Link: Torrentz2.eu