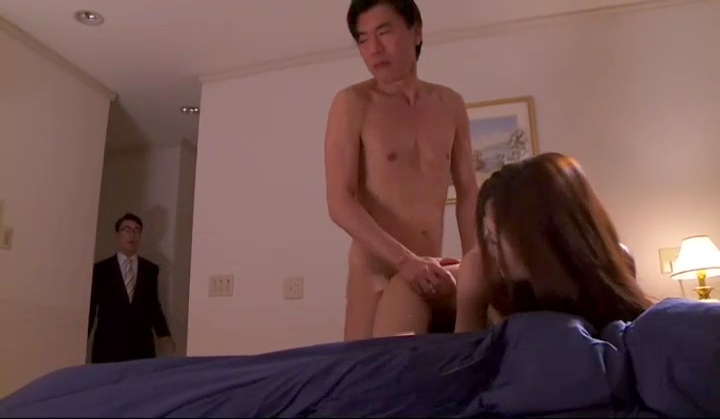 Download or Stream IPZ-146 in HD. Click here.
Description
A normal day takes a wild turn when an unexpected visitor shows up…she doesn't want to hurt her husband but her beautiful naked body is so sensitive. Overcome with irrational desire, the force of lust comes alive in her body, and she's overwhelmed with sadness and pleasure!
Details for the JAV IPZ-146
Other Titles: IPZ-46 Kaori Maeda And Being Fucked In Front Of Husband
Director: Nagira Kenzo
Starring: Kaori Maeda
Genre: JAV
Country: Japan
Rape turned Willing, Cheating Scenes in IPZ-146
Note: Watched without subtitles.
Kaori gets invaded at home and raped
The wife (Kaori Maeda) and her husband are eating breakfast. But outside the house, her future assailant is observing behind some bushes. The guy also observes her when she goes out of the house.
During night time, the husband does not come home, so the guy makes his move. He breaks the lock of Kaori's back door with an ax. Then he comes in and rapes Kaori on the couch. He eats her a bit and pounds her while she's lying on her back. He also pounds her from behind and comes on her face. Then he talks to her, and I assume he is warning her not to tell her husband or the police.
Kaori sucks guy's dick in the balcony
Kaori is with her husband at the dining table the next day. She doesn't tell him about her rapist. Later during the day, she is hanging her washed clothes on the balcony when the guy suddenly comes from behind her and starts making out with her. He brings her inside the house and makes her suck his dick just by the balcony's glass door. He comes inside her mouth.
The guy fucks Kaori in the kitchen while her husband is sleeping upstairs
The guy comes to Kaori and her husband's bedroom door and motions for her to come out. Her husband is already sleeping by her side. She refuses at first, but he pulls out a knife and threatens her, so she has no choice but to get up and go with him downstairs to the kitchen.
The first thing the guy makes her do is to suck his dick. She kneels in front of him and he puts his dick inside her mouth. She is not as resistive this time, probably because of his knife, and she is also afraid that her husband would wake up which will lead to more trouble.
He makes her lean on the kitchen sink and pounds her from behind. Then, he makes her sit on the kitchen top and bangs her while he is standing. He doesn't make her remove her upper pajama but just unbutton it so that he can play with her tits a bit. Finally, he pounds her again from behind and comes inside. His cum is seen dripping between her thighs.
Kaori gets fucked while talking to someone in the intercom
The next day, the guy comes inside Kaori's house again while she is vacuuming the floor. He lowers his pants, then lowers her skirt, and bangs her from behind in a standing position. Someone rings the front door, so the guy tells Kaori to answer the intercom. He continues pounding her from behind while she is talking to the guy via the intercom, desperately trying to hold her moan and her whimper.
When Kaori is done talking at the intercom, the guy brings her to the couch to continue fucking her there. He again cums on her face, generally on the mouth area.
Kaori is beginning to like her rapist
A scene is briefly shown where Kaori gets fucked in the washing area. Then she gets fucked in the shower. This is the first time that Kaori is fully naked. It is also here where Kaori begins to be genuinely cooperative. She is less whiny and even embracing the guy while they are fucking in a standing position. She is also a very willing blow jobber this time around compared to their earlier sessions. She looks straight into his eyes while she is sucking him off.
Later that night, Kaori is beside her husband on their bed and can't sleep. She looks at him and it seems she feels guilty that she enjoyed the sex she had with the guy in the shower earlier.
Kaori's husband arrives home and catches her getting doggy styled
The guy comes in Kaori's bedroom while she is putting her lipstick on. He makes her kneel and shoves his dick into her mouth. Strangely, Kaori keeps on trying to put her lipstick on while sucking the guy's dick simultaneously. But that is short-lived as he brings her to the bed and fucks her there properly.
The guy is giving Kaori some doggy styling when suddenly the husband comes home and enters the bedroom. He is shocked, of course. Kaori looks at him but, as she has no control of the situation, she just helplessly stares at him while the guy continues on humping her from behind.
When the guy becomes aware of the husband's presence, he calmly gets off the wife. Then, he lunges toward the husband and ties him up and gags him. After that, he comes back to the wife and starts making love to her again.
The wife is crying, yes, but she actually kisses him back. And when he puts her on top of him, she actually bounces by herself and is really fucking him. She doesn't even turn back to look at her husband on the floor like she's forgotten that he's there.
A little while later, the guy orgasms and gives her a facial. He leaves, and the last scene is that of the wife, fully naked in bed, with another guy's cum on her face and mouth, while her husband is all tied up on the floor in the background. Beautiful.
More info for IPZ-146
Download or Watch Online in HD: R18.com