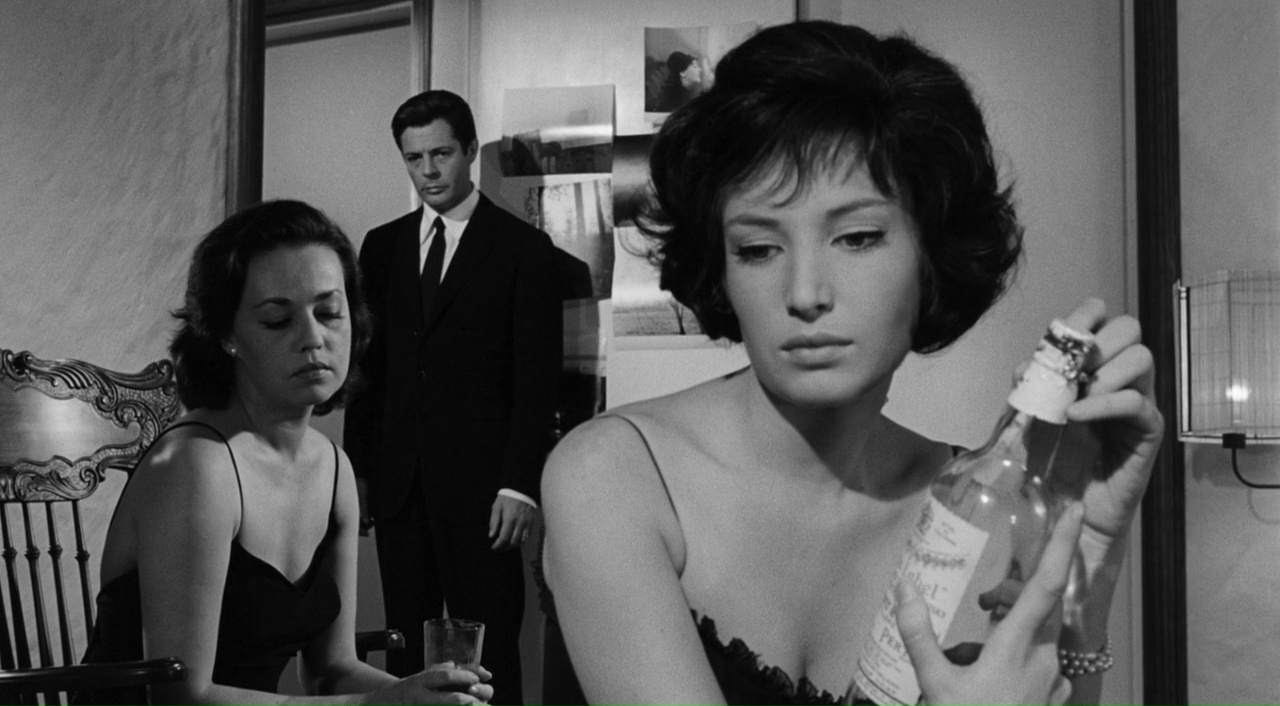 Description
In Milan, after visiting dear friend Tommaso Garani that is terminal in a hospital, the writer Giovanni Pontano goes to a party for the release of his last book, and his wife Lydia Pontano visits the place where she lived many years ago. In the night, they go to a night-club, and later to a party in the mansion of the tycoon Mr. Gherardini. Along the night, Giovanni flirts with Valentina Gherardini, the daughter of the host, and then he receives a proposal to work for him in the area of communication and write the history of his company. Meanwhile, Lydia flirts with the playboy Roberto.
Details for the movie La Notte (1961)
Other Titles: The Night
Director: Michelangelo Antonioni
Starring: Jeanne Moreau, Marcello Mastroianni, Monica Vitti
Genre: Drama
Country: Italy
Language: Italian/English Subbed
Almost Cheating Scenes in La Notte (1961)
This is a missed chance at cheating on the wife's part, but the husband is all too willing to do it but he just gets unlucky.
The couple Lidia and Giovanni visits their friend Tommaso in a hospital. They encounter an attractive female patient in the hallway. It seems that the patient is mentally disturbed. She tells Giovanni something about her phone not working then afterwards she runs back to her room as a nurse goes after her.
The couple enters the room of Tommaso and talk to him. With the way Tommasso looks at Lidia, it seems that something's going on between them, or that he has feelings for her. Lidia excuses herself and goes outside the hospital and cries in a corner.
Giovanni leaves a short while after. When he passes by the door of the attractive female patient, she asks him for a match then pulls him inside her room. She kisses him, takes her clothes off and lie on her bed. He gets turned on and starts kissing her on the bed and would have fucked her, had the nurses not come in and subdue her. He has to awkwardly get off her.
Inside the couple's car, Giovanni confesses to Lidia about the incident, telling her it was an unpleasant experience for him. Lidia finds it ridiculous that he calls the incident 'unpleasant.'
The couple goes to a party. Lidia witnesses Giovanni kissing the daughter of their rich host, Valentina. Lidia gets sad and wanders around the party mostly alone.
A playboy named Roberto asks Lidia to dance. It rains hard and Roberto brings her to his car and drives her off. Giovanni is left in the party, wondering where his wife is. Then the power goes off.
Inside the car, Lidia and Roberto talk and smile to each other, seemingly hitting it off. They stop near a train track and stand in the rain, getting heavily soaked. They look at each other, and Roberto pulls her towards him and tries to kiss her. She pulls away from him and gets in the car, telling him sorry, but she can't do it.
At the party, Giovanni approaches Valentina, but Valentina tells him she does not want to break marriages and to go back to his wife. They go to her room, and he is able to make stride and about to successfully kiss her when the lights come back on and she stops him. They go out and see Roberto and Lidia just come in. Valentina offers Lidia to dry up in her room. where they talk. Giovanni comes in and hears some of the things that Lidia says. Lidia tells Valentina that she's not jealous. Roberto comes close to Valentina and touches her in the face, obviously still wanting to fuck her, and not minding that his wife is there. Valentina moves away. Lidia kisses her goodbye and the couple starts to leave. Valentina tells them they really worn her out tonight.
While the couple is walking away from the party, Valentina informs Giovanni that Tommasso died in the hospital. Then she tells him that Tommaso came to her several times in the past, sat with her for days, and believed that she had strength and intelligence. She continues and tells him that she used to spend entire afternoons reading in bed and Tommaso would stop by and find her like that. Tommaso could have taken her in his arms if he'd liked and she wouldn't have rejected him out of sheer boredom, but he was content to sit and watch her as she read to him.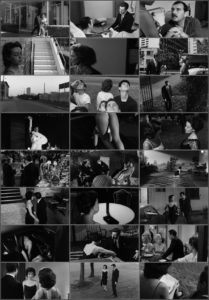 More info for the movie La Notte (1961)
Caution: Aside from additional information for the movie La Notte (1961), the links below may contain download links. I am not responsible how you will use them.
IMDb Info: IMDB
Info + Download Link: Worldscinema.org