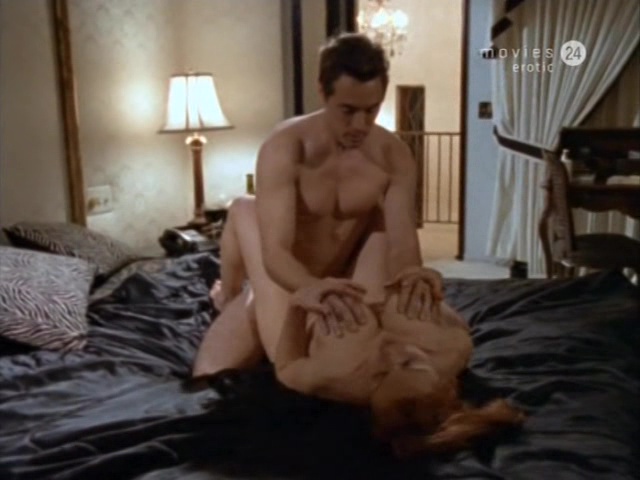 Description
Mike Hathaway's wife is murdered and it's up to his mistress to gather evidence proving that he isn't at the scene of the crime when it happened. She may have to go to great lengths to save the man she cares for, and that means posing as a stripper in the club that Mike used as alibi to prove that he was indeed there that night.
Details for the movie Deviant Obsession (2002)
Director: Eric Gibson
Starring: Brick Randall, Angelica Costello, John McCafferty, Lauren Montgomery, Gabriella Hall
Country: USA
Cheating Scenes in Deviant Obsession (2002)
Joan Alton (Brick Randall) is the mistress/girlfriend of Mike Hathaway who is already married to Evelyn (Gabriella Hall). After a meeting, we see Ted Farrow, Mike's best friend, inviting Joan to have lunch with her. Joan says no, saying she already has plans. And that plan is actually to meet and screw Mike in a hotel room.
Mike's wife is murdered, and Mike's alibi is that he was with a woman that night whom he met in a strip club. The woman can't be found and the guys from the club claim they haven't seen Mike that night. So Joan decides to go undercover by working as a waitress in the strip club to gather evidence. There's no open position for a waitress, but there is for a stripper, so Joan takes it and does a demo in front of the bartender. Soon, she strips for the actual crowd in the club. The bartender comments that she's a natural and therefore must be sexually frustrated as hell.
Joan tells  Ted about what she did and tells him not to tell Mike.
In the club's dressing room, Violet, a fellow stripper, teaches Joan how to do lap dancing. She gets on Joan's lap and proceeds to do a demo. Joan gets turned on and pretty soon the two are making out for real. Violet rubs her cunt hard against Joan, while Joan sucks Violet's tits.
Mike finds out about what Joan did. He is mad at first, but when Joan demonstrates that she's making progress, he tells her he won't stop her but she should keep him in the loop.
Joan sees the desk clerk of the hotel where Mike said he stayed the night of the murder. The desk clerk told the cops that he didn't see Mike that night. So Joan decides to give him a lap dance to extract information from him. She comes with him to his house and screws him there. She gives him head and is really giving him a good time and it looks like she's having a good time too. Well, it's all for Mike's sake I guess.
The best friend gets to screw Joan
After coming from the police station, Joan feels depressed. Ted comforts her which makes her calm and smile a bit. So when Ted offers her a drink, she accepts, but she says just one drink.
While drinking in Joan's couch, Ted tells her about a girl in college who just broke up with him. He wanted to win her back. He broke into her apartment to surprise her but was surprised himself when Mike's already there. So there's always a bit of a competition between him and Mike and he says that they're always attracted to the same woman. While saying this, he looks lasciviously at Joan's body. Joan seems to get this, and she seems flattered and not offended, and she looks approvingly but coyly at Mike.
Ted asks Joan sheepishly if there's a chance for the two of them. She laughs at his shyness and tells him it's alright but she's just surprised. She tells him probably yes, it's not like she never finds him attractive, and if the time and place is right, anything can happen.
Ted comes closer to her and asks her what would the right time and place be. Joan answers "I don't know, it would have to be a certain time and place, and I would have had too much to drink and.." Ted puts his face closer to hers, then she continues.. "we'd be alone and talking and no one to disturb.." Ted goes for her lips, and she says "Hey, What about Mike, I don't think we should do this." Ted tells her to forget Mike, and they kiss intensely. He brings her to her bed and makes love to her.
In the morning, Joan tells Ted not to worry because she doesn't blame him for what happened last night but blames it on the booze (how convenient). Ted asks her if she wants to see him again. Joan tells him, no, she just wants it to be a one-night thing between them and that she wants to stay with Mike, who is still currently in jail at that time and totally clueless that his best friend just one-nighted his girlfriend.
Deviant Obsession (2002) – screenshots
More info for the movie Deviant Obsession (2002)
IMDb Info: IMDB
Info + Download Link: Rarelust.com
Watch Online: