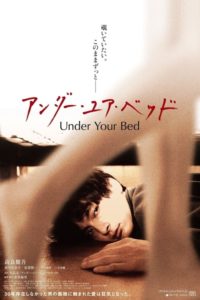 ---
Naoto was ignored by other people. During his school days, Chihiro was the first person who called his name. Naoto dreams of seeing her again and tries to find her. Finally, after 11 years, he locates her, but she is a totally different person now. Naoto becomes obsessed with her. Naoto sneaks into her house and stays under her bed.
|
Cheating Notes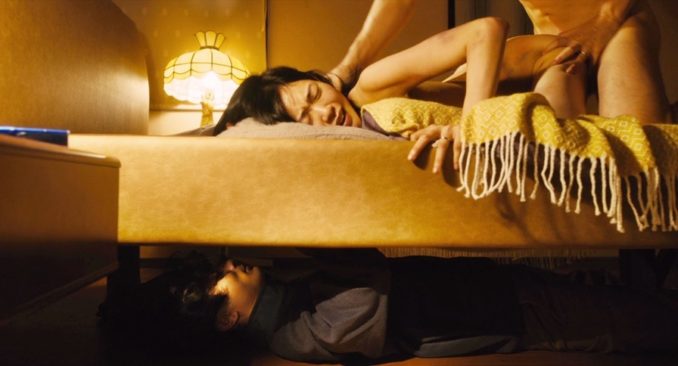 After 11 years, Naoto locates Chihiro, the only chick who paid any attention to him in school. He opens up an aquarium store across her house and starts living on its upper floor. He begins stalking Chihiro, watching her through his camera day and night. He witnesses her sadistic husband beating her up before fucking her several times. There's one time where she's naked with bruises all over her body and her husband makes her crawl on the floor towards him and then he makes her suck his toes before pulling her up and fucking her on the bed.
Chihiro enters Naoto's store one day and inquires about aquarium and guppies but she doesn't recognize him. Naoto offers him guppies and an aquarium device for free, which leads to him being able to enter her house. He secretly takes her house key and makes a copy of it. Eventually, he starts coming into her house secretly and staying under her bed. This makes him see her getting beaten up and fucked by her husband in close range. One time, she is beaten so badly that she becomes unconscious in the bathtub. When the husband falls asleep, Naoto takes her out of the bathtub, dries her up and covers her with sheets to warm her up in the living room.
(Spoiler) In the end, Naoto kills Chihiro's husband when he intervenes in another beat-up session of the couple. After her husband's death, Chihiro finally recognizes Naoto when she goes to his place and sees the huge print-up of her face on his wall and a school club photo that he has which includes the two of them standing beside each other along with the other club members.
There's a part where Naoto fantasizes about having sex with Chihiro back when they were still in school. In it, they make love after her supposed boyfriend beats her up and he saves her.
Summary
Another fucked-up Japanese movie which I highly recommend. Although Naoto is a stalker, and you know how stalkers are being badly maligned these days, I think he has a good heart and he really genuinely cares for Chihiro but he just doesn't have the social skills to make her fall for him. You can feel his pain when he witnesses Chihiro getting beaten up in close range and he can't do anything about it.
Sadly for us, Naoto isn't able to fuck Chihiro so we don't really have a cheating wife in this movie (although as a consolation, there's a fantasy sequence where they have sex), but it's thrilling and erotic anticipating whether she, the abused hot wife, is going to fuck the guy who is stalking and lusting for her. Also, wife peeping is one of my fantasies, and to be near a wife in a very close distance like that, under her bed, specifically, while her husband is banging her? That's heaven and it can only happen in movies, usually.
Watch Trailer
---
---
---