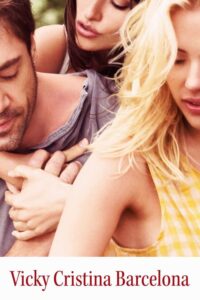 ---
Two girlfriends on a summer holiday in Spain become enamored with the same painter, unaware that his ex-wife, with whom he has a tempestuous relationship, is about to re-enter the picture.

Sexually adventurous Cristina and her friend Vicky, who is bright but cautious, holiday in Barcelona where they meet the celebrated and wholly seductive painter, Juan Antonio. Vicky is not about to dive into a sexual adventure being committed to her forthcoming marriage. But Cristina is immediately captivated by Juan Antonio's free spirit and his romantic allure is enhanced when she hears the delicious details of his divorce from fellow artist, the tempestuous Maria Elena.
|
Cheating Notes
Vicky (Rebeca Hall), the one who is already engaged, also gets seduced by the painter.
---
---
---