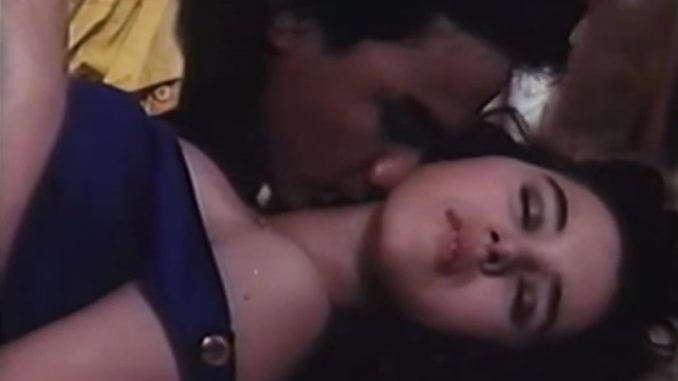 Description
Tells the story of death row inmate Marcos 'Bong' Manalang, a young guy who murders his relatives, including his two young nephews, and the girl who got him into that murderous state of mind.
Details for the movie Sa Aking Puso (1992)
Other Title: Sa Aking Puso: The Marcos 'Bong' Manalang Story
Director: Toto Natividad
Starring: Romnick Sarmenta, Ana Margarita Gonzales, Sharmaine Arnaiz
Country: Philippines
Language: Filipino
Cheating Scenes in Sa Aking Puso (1992)
Note: Watched without subtitles
Janet hooks up with Bong
The first time that Janet (Ana Margarita Gonzales) sees Bong (Romnick Sarmenta) in her class, she already finds him attractive. She and her friends approach him after class and they get introduced to each other. Pretty soon, Bong woos her and they become a couple. They make out on the beach and fuck on a bath tub in a motel room.
Later, we find out that Janet has a boyfriend (Jigger) in the States. When he comes home, Janet confesses to him that she had a thing with Bong, that she went with him to a motel and fucked him. She tells him that it happened because she pitied Bong for looking so lonely and sad.
Jigger sarcastically answers her, "Oh wow, the things you do for pity! You go as far as going to the motel with the guy and fucking him!" Janet replies that she is telling him all of this because she loves him, and besides, no one will know. Wow, she fucked somebody else and tells her boyfriend that it's ok because no one will know? Well her friends know, and her boyfriend too. Jigger replies, "Oh, so now I even have to thank you."
Later, Jigger calms down and tells her that he's grateful for her honesty. Then he asks her, what now, will she still go out with Bong? She tells him no, not anymore. Jigger is glad to hear that so he lays her down on a kitchen top and screws her.
Bong is seduced by his cousin's mistress
Bong's older cousin Fredo introduces him to his mistress, Terry (Sharmaine Arnaiz), in a bowling alley. While Fredo is necking her, Terry is looking and smiling at Bong.
One day, Fredo sends Bong to Terry's house to bring some fruits to her. Fredo can't come because his wife has her eyes on him. Terry offers Bong some beer and she seems bent on getting him drunk. When Bong gets a little tipsy, Terry unbuttons his shirt and caresses his chest while telling him that she won't tell Fredo. Bong asks her what she's doing. She tells him not to be afraid, that he will surely like what she plans to do with him. She tells him that she fantasized about him from the first moment she saw him.
Bong tells her that he's in love with somebody. She tells him that other people have nothing to do with what they both want to do (or specifically, what she wants to do with him). She starts kissing him, and Bong lets her kiss him for a while, but he stops her and hurriedly gets out of her house.
More info for the movie Sa Aking Puso (1992)
IMDB Info: IMDB
Trailer: Youtube.com