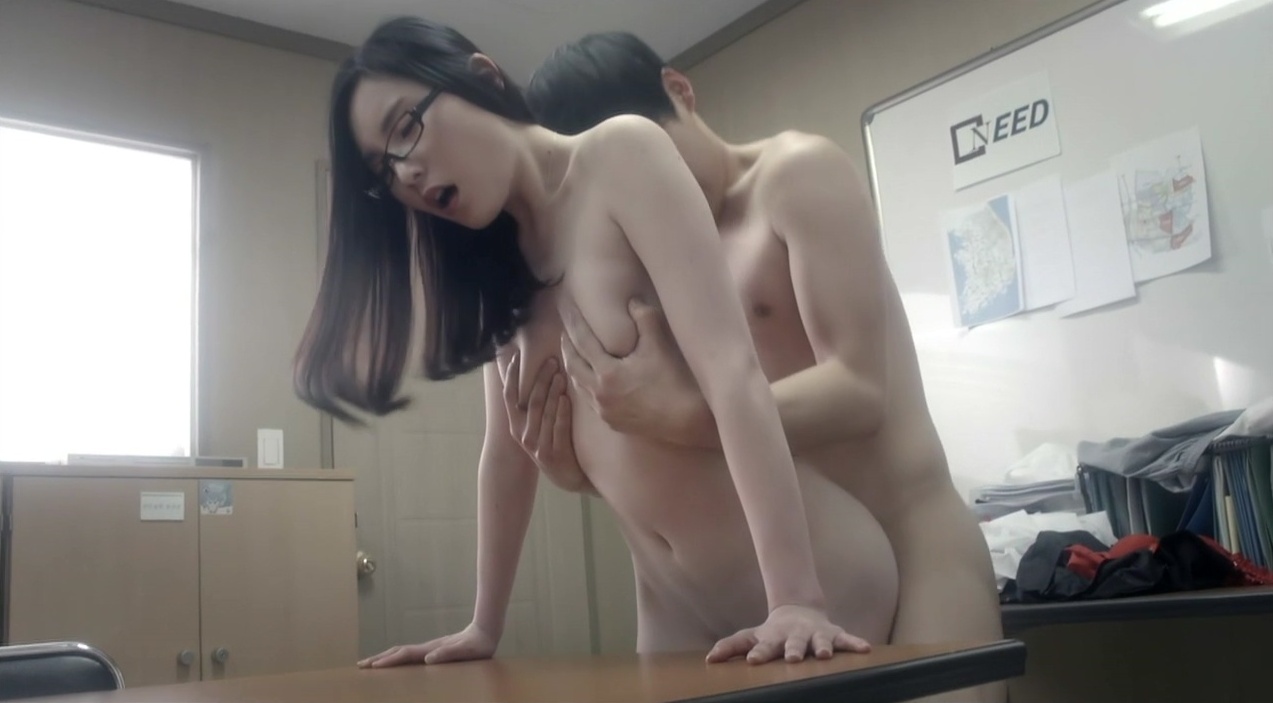 Description
Yeong-gil comes across a Pandora's box and his life changes. He lands a job where he pretends to be somebody depending on his client's request. A girl (Joo-yeon) then hires him to pretend as her boyfriend and meet her parents. At Joo-yeon's house, Yeong-Gil meets her beautiful young mother.
Details for the movie Young Mother 2 (2014)
Other Title: 젊은 엄마2
Director: Noh Seong-soo
Starring: Cha Soon-hyeong, Cha Soon-hyeong, Lee Ha-roo, Ye Rin
Genre: Asian Erotica
Country: South Korea
Language: Korean
Cheating Scenes in the movie Young Mother 2 (2014)
Note: Watched without subtitles.
Because of the Pandora's Box that Yeong-gil stole from an antique seller, either his day is happening repeatedly like in the movie Groundhog Day, or he has recurring dreams with different outcomes and he can't figure out when he is going to get out of them. In some of these days (or dreams), he is able to screw his sexy employer, his client Joo-yeon, and the one we're interested in, Joo-yeon's mom.
One Version, Yeong-gil bangs Joo-yeon's mom
So Joo-yeon hires Yeong-gil to pretend that he is her boyfriend so that she can introduce him to her parents. She brings him to her house, then they go out to buy some grocery stuff for her birthday. Somehow, they have to separate so Yeong-gil comes back to Joo-yeon's house earlier. There, he meets her mom. When she is jumping while trying to reach the key on the ledge on top of the front door, he gets to get a good look up her skirt from the back.
Inside, Yeong-gil falls and becomes unconscious while trying to decorate the Chrismas tree. Joo-yeon's mom comes to his aid and crouches low. This enables him to look at her cleavage.
Then, Joo-yeon's mom gives Yeong-gil a glass of water while he is lying on the couch, but it accidentally spills on his crouch area. She wipes it with tissue, and stops when he makes her realize that she is wiping a sensitive part of him. But then, she resumes wiping his crouch, and this time with sexual intention.
She presses her breasts on his body. He opens her blouse and her braless boobs fall out of it. He lays her on the couch and sucks her lactating nipples. She sits on his face, then they give each other oral sex in the 69 position.
He bangs her from behind while they're both standing on the couch and she's holding the adjacent ladder handrail for support. Someone rings the doorbell (Joo-yeon) and their sex is interrupted.
Then, Yeong-gil wakes up on Joo-yeon's couch like it was all a dream (this is part of the effect of the Pandora's Box, I think). In front of him are Joo-yeon, her mom whom he just supposedly fucked, and her dad.
Later that night, they celebrate Joo-yeon's birthday in the living room. When Joo-yeon and her dad go to the kitchen to get the wine, Yeong-gil flirts with Joo-yeon's mom by taking some morsel of cake from her lips with his thumb. Then he licks the same thumb to eat the morsel of cake. She seems a bit embarrassed but not offended. Maybe he has the guts to do it because, in his mind, he already fucked this hot mom earlier.
Another version, Joo-yeon and her mom make out
In this version, Yeong-gil is sitting on the couch in Joo-yeon's home and in front of him, Joo-yeon and her mom are making out, undressing each other, licking each other's boobs, etc. Then they both crawl toward him, but when they are about to physically make contact with him, he wakes up on a bench in the park.
Still another version
This version is the same thing as the first where Yeong-gil bangs Joo-yeon's mom on the couch. Only this one is short lived. While she is wiping his crotch, he pulls her towards him and starts kissing and fondling her boobs. Then, she goes down on him. He suddenly wakes up on the couch with the husband beside him. He shouts in surprise, so Joo-yeon's mom comes rushing in from the kitchen.
More info for the movie Young Mother 2 (2014)
Info: Asianwiki.com
Info: Hancinema.net
Info + Torrent Download Link: Torrentz2.eu
Watch Online: Youtube.com
Related Titles