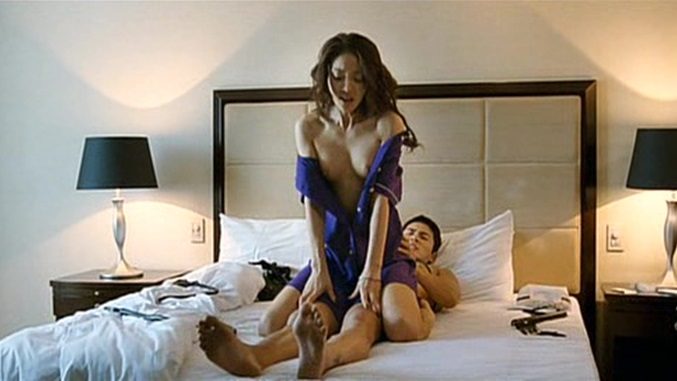 Description
The film depicts the hollow lives of affluent thirty-something young urban professionals in Seoul. The protagonists are three childhood friends, each struggling with a compulsion: schizophrenia, sex addiction, and infidelity. The revelation of their secrets exacerbates their sense of deprivation, and the three friends are inevitably led to a shocking finale when they learn that growing pains are not just distant memories of their youth.
Details for the movie Searching for the Elephant (2009)
Other Title: 펜트하우스 코끼리
Director: Jeong Seung-goo
Starring: Jang Hyeok, Jo Dong-hyeok, Lee Sang-woo, Lee Min-jung, Jang Ja-yeon, Hwang Woo-seul-hye
Country: South Korea
Language: Korean/English Subtitles
Cheating Scenes in Searching for the Elephant (2009)
Hyun-woo. (photographer), Minsuk (plastic surgeon) and Jin-hyuck (finance) are close friends since childhood. Soo-yeon is the wife of Minsuk and the sister of Hyun-woo. After 12 years overseas, Jin-hyuck comes back and reunites with the others.
Hyun-woo, Jin-hyuck and Soo-yeon agree to meet for dinner. Minsuk (Soo-yeon's husband) does not join them because he is busy fucking two ladies somewhere. While waiting for Hyun-woo, Jin-hyuck runs his hand on Soo-yeon's foot and calf under the table. Soo-yeon just looks at him affectionately and smiles. Jin-hyuck being able to touch the naked leg of his friend's wife indicates that something is already going on between the two at this point, but not sure how long or if it's already sexual.
Jin-hyuck fucks and impregnates Minsuk's wife
A few days later, Soo-yeon comes with Jin-hyuck to his apartment, holding a boquet of flowers. As soon as they enter the apartment, Jin-hyuck grabs Soo-yeon and kisses her. She kisses back passionately and they have sex (not shown). In the next scene, we see them both naked in the bathtub together. Jin-hyuck licks Soo-yeon's toes and tells her that they should leave together. She tells him that "it's his baby," telling us that she's pregnant.
Minsuk receives a video of his wife giving Jin-hyuck a blowjob
An anonymous person is harassing Minsuk lately, doing things like sending a snake in his office. This person gives Minsuk a video of Soo-yeon giving Jin-hyuck a blowjob inside his car. The camera perspective is from the front of the car, so he can only see his wife lowering her head down to Jin-hyuck's lap and not actually the deed itself, but of course, she's not gonna do anything down there other than to suck his cock.
Minsuk secretly follows his wife one day and finds out she's pregnant when he sees her visiting an obstetrician.
Minsuk meets Soo-yeon in a restaurant but instead of confronting her about her infidelity, he gives him an expensive bracelet and tells her that they should improve their relationship.
"Do you think my wife swallowed Jin-hyuck's cum?"
Minsuk shows Hyun-woo the video. He asks him if Soo-yeon swallowed Jin-hyuck's cum and answers his own question with yes. He asks Hyun-woo if he knew. Hyun-woo says yes, but that he didn't tell him because their friendship will suffer. Minsuk tells him that even though he is a womanizer, it's Soo-yeon that he wants to wake up with every morning.
Soo-yeon answers Minsuk herself whether she swallowed Jin-hyuck's cum
Minsuk sets up a meeting with the other three. Here, he tells them that the difference between a wife and a whore is that a whore doesn't mix bodily fluids (e.g. she doesn't kiss, let the man come inside, or swallow his juice) with a client because it is a transaction. That's why he thinks that a wife is better than a whore. Then, he asks Soo-yeon directly if he swallowed Jin-hyuck's cum. He repeats his question in a shouting manner while throwing her incriminating pictures at her.
Soo-yeon looks at him decisively and replies that yes, she swallowed Jin-hyuck's cum because it wasn't a transaction between them two. Minsuk gets a kitchen knife, points it at Jin-hyuck, and asks him if he enjoyed screwing his wife and if it's okay if he kills him. Jin-hyuck doesn't answer the first question (which is a good idea at this point) and only answers the second one.
More info for Searching for the Elephant (2009)
Info: IMDB
Info + Torrent Download Link: Torrentz2.eu