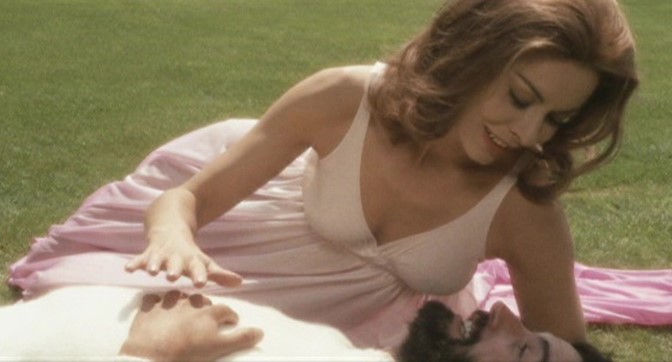 Description
A woman whose fiancee was murdered five years ago develops amnesia after having a traumatic encounter with her fiancee's killer in the present. She forgets everything that happened in the last five years, including getting married to her current husband. Slowly, she regains her memories back and puts the pieces together to determine whether someone is really trying to kill her or it's all just in her delusional mind.
Details for the movie The Killer Is on the Phone (1972)
Other Titles: L'assassino… è al telefono, Scenes from a Murder
Director: Alberto De Martino
Starring: Telly Savalas, Anne Heywood, Osvaldo Ruggieri
Country: Italy
Language: Italian with English Subtitles
Cheating Scenes in The Killer Is on the Phone (1972)
Due to a traumatic encounter involving her murdered ex-fiance, Eleanor suddenly develops amnesia. She can't remember anything that happened in the last five years (or the years after her ex-fiance died), even forgetting that she is now married to George.
Gradually, she starts to remember stuff fuzzily. She remembers a moment when she fucked Thomas, her co-actor in the theatre, or at least she remembers them talking after sex, where she was in her bra and panties. In this memory, it also came up in their dialogue that she fucked a lot of men before Thomas, and possibly even while she's seeing him.
With this memory, Eleanor confronts her husband and asks him that, if they are married to each other, were they happy? George says yes, but Eleanor calls him a liar, that he knew she is having an affair with Thomas and possibly other men. Then, she runs away, goes to the park and sleeps inside her car for the night.
The next day, Eleanor calls Thomas. She asks him if they had spent a lot of time together in his place. Thomas says yes and that it's good that she remembers.
Eleanor remembers another memory involving Thomas, again. Here, they also just had sex and she was in her bra and panties. She was telling Thomas to kill her husband.
Eleanor comes over to Thomas' place and starts having sex with him. But then, she remembers more things about the past and realizes that all of her memories about her affair with Thomas are just part of the play that they're doing together. So she is already naked and lying in Thomas' bed, and Thomas is already on top of her, kissing her naked belly and breasts when she remembers. She laughs at the moment of her realization and tells Thomas to get off her. Now that she is certain that they were not lovers, she won't let him fuck her anymore.
Thomas admits to her that he lied about her coming to his place a lot of times in the past. He is just trying to take advantage of her amnesia in order to fuck her. But the truth is that he was consistently trying to fuck her but she always rejected him.
Final Thoughts
I like the part where Eleanor has no problem fucking Thomas because her memory falsely told her that he was her lover, in spite of the fact that people told her that she is married to George.  She even tells Thomas how come they were lovers when she doesn't feel anything for him, and yet this lack of feeling doesn't stop her from getting naked and jumping into his bed. Too bad for George though, since she starts to remember before he actually gets to successfully fuck her. Oh well, at least he saw her naked, got on top of her and kissed and licked her naked body and breast a little bit. At least, those would be enough for a husband to get jealous of.
More info for The Killer Is on the Phone (1972)
IMDB Info: IMDB
Info + Download Link: Rarelust.com