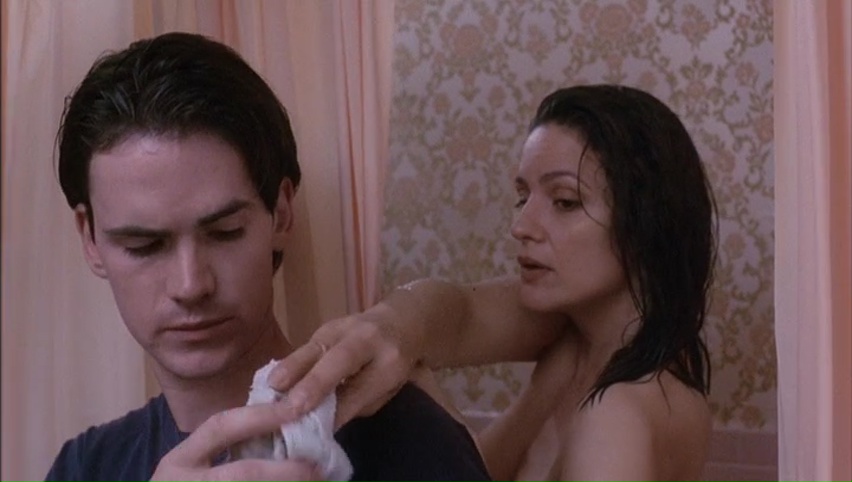 Description
Ray Aibelli is a promising medical student ready to begin a prestigious summer internship. But Susan, his mother, is immobilized by a broken leg, and his father Tom, a traveling salesman, makes Raymond stay home and take care of his mother, an attractive though unhappy woman. His mother's condition leads them to a degree of immediate physical contact which Raymond finds disturbing. He soon meets Toni, a high school girl, but his sexual impulses are increasingly confused, especially since he is still upset over losing the internship.
Details for the movie Spanking the Monkey (1994)
Director: David O. Russell
Starring: Jeremy Davies, Alberta Watson, Carla Gallo
Country: USA
Cheating Scenes in Spanking the Monkey (1994)
The husband has to travel for business so the son is forced to come home and take care of his mother who got into an accident and had her leg broken and casted. The son assists her mother in the bathroom by standing outside of the shower curtain so that she can hold on to him while taking a shower. She's nude, of course, but his back is turned from her so that he won't see her naked body.
One time, the wife asks the son to apply lotion on the dry and itchy skin of her legs. He does so, and when he inserts his hand inside the cast of her mom's leg near her crotch, he kind of gets turned on based on his expression because of the in-and-out motion of his hands towards the inside of the cast, like a penis coming in and out of a hole.
When the son assists his mother in the bathroom again, she hands him a small towel (I thought it's her panties) and tells him to rub her back. He rubs her back and can't help but see the naked body of his mother.
The son sees a young girl from the neighborhood and rough handles her a bit. His mother tells him that the father of the young girl called because of that. She then demonstrates to him how to handle a woman gently by running her hands through his arms while her head is lying on his shoulder.This really has an effect on the son, so a little later during the same night, he comes back to her room and joins his mom in drinking some alcohol on her bed.
They start laughing and fooling around. The mom turns around and lies on her back and tells her son to massage her hips because she's feeling cramped. The son starts to massage her and then starts looking lasciviously at her lower back. Without his mom telling her, he grabs the lotion and starts applying it to the back of her legs so that he has an excuse to touch them. 
The mom lifts her oversized shirt to reveal to the son her upper leg and her underwear. Then she looks back lustfully at her son. This is actually the first time that she's showing obvious sexuality towards her son, as there are no previous incidents, not even when she was touching his arms, that she showed any clear sexual innuendo towards him. She touches her son's arms and caresses it, signaling that it's ok for him to make his move. So the son climbs on top of her and screws her (not shown).
In the morning, the wife is naked under the sheets while the son is laying beside her wearing nothing but his shorts. Suddenly, Helen, the sister of the husband, who had been staying there for a few days already, knocks on the door. The son picks up his clothes and hurriedly climbs out of the window. Aside from the fact that he is the son, he really looks like some guy who banged another man's wife and is escaping through the window half-naked because the husband just came in. The postman sees him in this condition just before he is to re-enter their house.
The son feels really guilty. One day, her mother catches him making out with the young girl in his room. The girl leaves and he and his mom get into a tussle. It turns sexual and he is suddenly grabbing his mom's boobs (with a transparent bra) and kissing them. He starts unbuckling his belt and her mother holds his head and caresses it gently as if telling him she's ready again for his cock. But then he stops because of guilt and gets off her.
The son confesses to his dad on the phone about what happened between him and his mom. His dad doesn't believe him. He can't imagine that his wife will let their son's dick into her vagina.
The last sexual encounter between them is when she stops him from committing suicide. They are on the floor and the son starts to touch his mom's legs and then kisses her. After this, however, he starts choking her.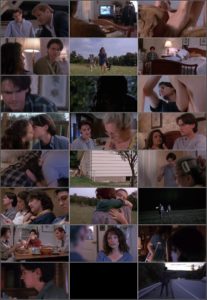 More info for Spanking the Monkey (1994)
IMDb Info: IMDB
Info + Download Link: Rarelust.com