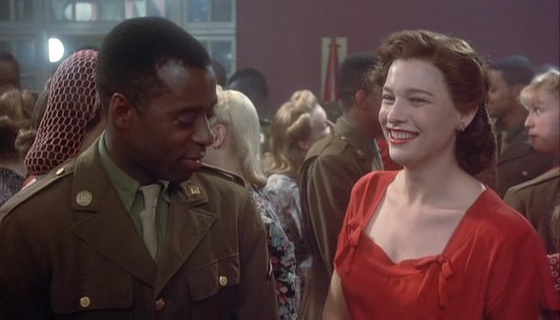 Description
A black American soldier stationed in an English town has an affair with a white married woman. This is a time where a relationship between a black man and a white woman is frowned upon, how much more if it is an illicit one. When the husband discovers the affair, fate can only turn tragic for the black man as the town, the military and the husband conspire to preserve the white woman's respectability.
Details for the movie The Affair (1995)
Director: Paul Seed
Starring: Courtney B. Vance, Kerry Fox, Leland Gantt
Country: USA
Cheating Scenes in The Affair (1995)
The wife approaches black guy in a dance. They met earlier when she fetched some garbage from the camp. They dance and hit it off. But when he asks for another dance, she politely says that other female would surely love to dance with him. He apologizes for being too forward and they just shake hands.
Black guy comes to wife's home. Wife says he shouldn't have come there. But when he gives her a Billie Holiday record, she lightens up and welcomes him in since it is drizzling anyway. They talk about Billie Holiday over a cup of coffee and becomes closer. Black guy shows the wife's kid some magic tricks and gives him some life lessons, so the wife gets even more delighted by him. When the black guy leaves, the wife has a very wide smile for him and you can sense that she's already willing to be pounded by that black dick where it not for social norms, so again they just shake hands.
Black guy comes back to her home and finds her fixing her car in the garage. He helps her fix it. They have a drink beside the car and talk about her husband's infidelity. She cries, he hugs her, and then they kiss. But just as they are about to do a full make-out, her kid comes calling her and they get interrupted.
When they meet again, wife doesn't want their affair to continue because of guilt. He does not agree. And why would he when he hasn't pounded that white ass yet? She runs away.
After a riot involving the black guy, the wife tells him that she's ready to "cope with the truth." So the next time they meet, they do a full make-out and have sex on top of a haystack in an abandoned property.
The next time she screws the black soldier in the outdoor, she makes her friend babysit her kid. Her friend has fallen asleep waiting for her as she takes her time banging him.
The wife just finished screwing the black guy in the outdoors when she finds her husband in their home. He just got back overseas. He kisses and hugs her, not knowing that some black dude had kissed her mouth and screwed her just moments earlier.
The wife and husband visit her parents. She excuses herself early to meet the black soldier. But when her husband comes home, he finds out that his wife did not arrive home yet, so he comes out and looks for her. He catches the black guy banging his wife. He thinks, or chooses to think that the black guy is raping his wife and beats him.
At home, the husband catches on and asks his kid and the wife about the black guy. The wife confesses, but the husband will proceed on charging the black guy with rape anyway for their future and asks his wife to cooperate or she will never see her kid again.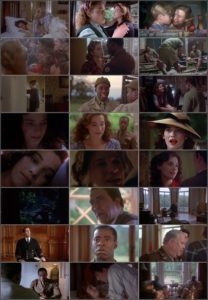 More info for the movie The Affair (1995)
Caution: Aside from additional information for the movie The Affair (1995), the links below may contain download links. I am not responsible how you will use them.
Info: IMDB
Info + Download Link: Rarelust.com