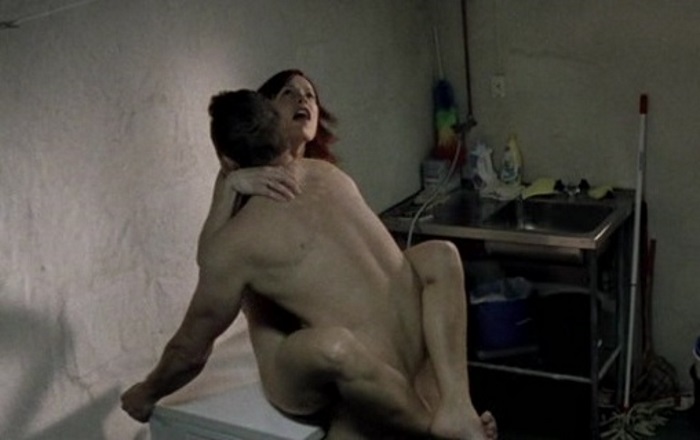 Description
Andreas becomes disabled when he meets an accident while driving and having kinky sex games over the phone with his wife, Liv. Wagner, who claims he is a handyman from the social services, comes to his house and helps makes his home more handicapped friendly. Since Andreas cannot satisfy his wife's sexual needs because of the accident, he suggests that she should have sex with Wagner since he thinks that she lusts for him, anyway. Liv fakes her sex with Wagner just to satisfy Andreas. However, Wagner starts becoming feeling at home and starts taking over Andeas' household. A dark secret from the past is also revealed about Wagner which complicates things.
Details for the movie Andreaskorset (2004)
Director: Martin Asphaug
Starring: Trond Fausa, Stine Varvin, Svante Martin
Genre: Thriller
Country: Norway
Cheating Scenes in Andreaskorset (2004)
There is a plot twist in this movie which I won't reveal too much. Andreas becomes disabled due to a car accident. Wagner, who claims he is a handyman from the social service, comes to his home to make his stairs and other parts of his home handicapped friendly. He is old but handsome and very muscular. Lots of women half his age wouldn't have second thoughts banging him.
Andreas injects a potency drug to his penis so that he can have sex with his wife Liv. Liv rides him and pretends that she came. Andreas figures out that she faked it and tells her.
Andreas and Liv allow Wagner to sleep in the basement while he is doing work on their house. Wagner brings the couple to a Muay Thai fighting bout. Liv gets excited watching the two men in the ring fight. Andreas isn't enjoying it and slips out to visit his uncle.
When Andreas comes back home, he finds Liv and Wagner dancing, with Liv's hands resting on Wagner's shoulders, and Wagner's hands around her waist and later resting on the side of her butt. Andreas enters the room, shows them he is in a festive mood and shouts "Let's tango!" while moving his wheelchair to simulate dancing. Liv and Wagner separate from each other. Wagner announces that he's going to bed. Andreas says sorry if he interrupted something in a slightly sarcastic tone.
Liv pretends he is fucking Wagner in the basement
After Wagner goes down to the basement, Andreas tells Liv that she can screw Wagner if she wants. Liv says they just had an innocent drink while waiting for him. He says he doesn't trust her when she's sexually frustrated. He again insists that she fucks Wagner if she really wants it then he goes to their bedroom moping.
Liv goes down to the basement and loudly moans like he is fucking Wagner. She makes some of her moans sound like a guy's moans to pretend that it's Wagner's voice. Andreas hears her moans from their bedroom above, but so does Wagner. Wagner comes out of his room and gets Liv's attention. When Liv tells him what she is doing, he joins in and moans himself, while holding Liv's hands and leading her to his room. Inside the room, Wagner actually tries to kiss Liv. Perhaps he got aroused by her fake moans. Liv pushes her back though while letting out her final fake orgasmic moan. Her rejection is all good with Wagner and they just laugh about it. She jokingly thanks him for a wonderful time, but she tells him that he has to leave them now because their situation is taking its toll on Andreas. So Wagner leaves in the middle of the night.
In the morning, Andreas apologizes to Liv about his behavior yesterday. He tells her that what's done is done (Liv fucking Wagner) and that they should just forget the whole mess. Liv is pacified, but at this point, she doesn't tell him that her sex with Wagner was fake.
Wagner returns
Liv learns something which makes her go find Wagner and bring him back home. They come home in the middle of the night. Andreas wakes up and goes down the basement to find Liv helping Wagner fix his bed. They are being playful with each other, having a pillow fight. Andreas gets jealous and asks Liv why she and Wagner happen to come back in the middle of the night while he is sleeping. Liv says they just talked.
Wagner reveals something to Andreas. First, it angers Andreas and he throws a solid object at Wagner which makes his forehead bleed. But after that, he calms down and so Wagner gets to stay in the basement again.
Wagner rapes Liv, or is it really rape?
This is a very hot scene. Andreas cries rape but it really looks like Liv is aroused by Wagner's animal ferocity and is having wild consensual sex with him.
It all starts when Liv goes down the basement to use the washing machine. Wagner approaches her and he is fully naked. Liv looks at his naked body and at his dick. She laughs and can't believe what she's seeing. But she doesn't seem to be offended.
Wagner drops his clothes on top of the machine and asks Liv if Andreas has any clothes that he can borrow. She stands up and tells him she will see what she can find and starts to leave. Wagner stops her and tells her that it was fun faking sex with her last night. He grabs her shoulders and tells her that Andreas wants him to do certain things for him, and he's referring to fucking her.  Liv laughs and replies "So that's what Andreas wants.." in a sarcastic tone. But she doesn't remove his hands off her and she doesn't get away in front of him.
Suddenly, Wagner tears her clothes off. Liv gives her a surprised and aroused look. She just stands in front of him and stares at his eyes for a  long time and does not cover her naked body.
Upstairs, Andreas hears a yelp from his wife and a groan from Wagner in the basement. He goes down and sees the naked Wagner in a crouching position in front of his naked wife. He shouts, Wagner hears him and hurriedly closes the door.
Wagner picks up Liv and makes her sit on top of the washing machine and screws her there. With the way that Liv's feet are wrapped around Wagner's body, her hand hanging on his shoulders, and the kind of aroused expression on her face, there's no way that she is being raped by Wagner. Liv is definitely fucking him. She doesn't shout her husband's name for help even if she knows that he is just outside the door.
Wagner continues on banging Liv while Andreas goes out of the house and takes a peek through the basement window. He sees Wagner banging his wife furiously on top of the washing machine which is whirring loudly. From his perspective though, he thinks that Wagner is really raping his wife so he calls the cops.
The washing machine is getting displaced while Liv is moaning loudly on top of it. Because it has run away too far from the wall, it's water hose breaks and spurts of water come rushing out of it, just in time to sync with Liv's orgasm.
Liv denies there's rape
The cops arrive but they find Liv fully clothed and practicing her cello in the living room. Wagner is nowhere to be found. When asked by the cops, she denies it and tells them that her husband just invented Wagner in his mind.
When the cops leave, Andreas tells Liv that they should file charges or else Wagner could come back. Liv doesn't seem to agree with the idea. Wagner appears again. Andreas goes back to his room while Wagner remains with Liv in the kitchen. He puts his arm around her but she shoves it away.
The reason why Liv didn't tell the cops is probably because of two things. One, she liked Wagner's fucking and doesn't want it to end yet. Two, he is afraid of Wagner who is now starting to become a psycho. I say it's a combination of these two.
Wagner eats Liv
Andreas goes out to talk to his uncle. When he gets back home, he sees his wife under the sheets on their bed. She seems to be having a nightmare because she is moaning with her eyes closed. But when he turns on the light, he sees what's really going on: Wagner is under the sheets and is giving his wife cunnilingus. Liv opens her eyes and is shocked to see Andreas in between deep breaths.
After Liv gets to taste the pleasure brought by a brute, she does come back to the side of her husband and from this point onwards, she helps him in defeating Wagner.
More info for Andreaskorset (2004)
IMDb Info: IMDB
Info + Torrent Download Link: Torrentz2.eu