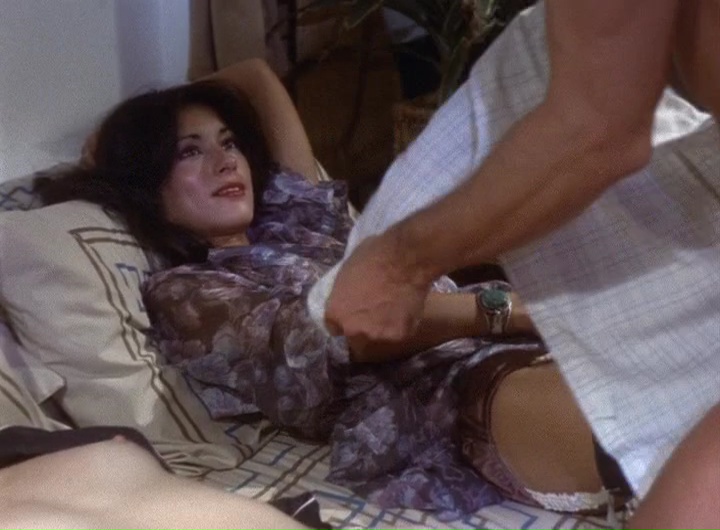 Description
We get to take a look into the hot fantasies of several women who are loosely connected to each other. Starring Vanessa del Rio and Arcadia Lake.
Details for the movie Babylon Pink (1979)
Other Titles: Die feuchten Träume von Babylon, Sonhos Sensuais, Mantidi in amore
Director: Henri Pachard
Starring: Arcadia Lake (as Arcadia Blue), Vanessa del Rio
Genre: Adult
Country: USA
Wife Fantasy Cheating Scenes in Babylon Pink (1979)
First wife (Vanessa del Rio) sees the muscular fruit vendor in the street below her home and smiles. She looks at herself in the mirror and fixes herself. Suddenly she starts fantasizing that the fruit vendor is behind her and starts making love to her. He removes her robe and underwear and eats her while she's standing. He brings her to her bed and screws her. She makes him come. Suddenly the phone rings and she is taken out of her fantasy.
Another wife fantasizes about her young tennis instructor. They are having a dinner party together with her husband. She uses the bathroom and the tennis instructor follows her inside. He makes an advance sexually towards her. She refuses at first but only very briefly. When he starts kissing her she kisses him back. He screws her while she is leaning against the faucet. Then she blows him while she is sitting and peeing in the toilet bowl.
Another lady fantasizes about having a threesome with her roommate (Arcadia Lake) and her roommate's boyfriend. She blows the boyfriend while her roommate eats her out. Her roommate straps a dildo on and bangs her. Arcadia Lake is the hottest chick in this adult film.
More info for the movie Babylon Pink (1979)
Caution: Aside from additional information for the movie Babylon Pink (1979), the links below may contain download links. I am not responsible how you will use them.
IMDb Info: IMDB
Info + Download Link: Rarelust.com