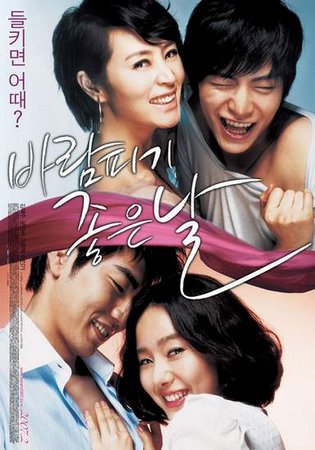 Description
Two bored housewives have an affair with men they meet in chat rooms online. Their chat room nicknames are Dewdrop and Tweetie. Dewdrop is the devil-may-care type who uses her husband's infidelity as a justification for her cheating. Tweetie, meanwhile, is the type who longs for meaningful conversations in a partner rather than meaningless sex. Their worlds collide when they happen to meet their lovers in the same motel.
Details for Driving with A Good Day to Have an Affair
Other Titles: A Day for an Affair (2007), 바람 피기 좋은 날
Director: Jang Moon-il
Starring: Kim Hye-soo, Yoon Jin-seo, Lee Jong-hyuk, Lee Min-ki
Country: South Korea
Cheating Scenes in A Good Day to Have an Affair
The housewives have the online nicknames Dewdrop and Tweetie.
Dewdrop and Tweetie meet their respective lover for the first time. Dewdrop gets an inexperienced young guy for a date, while Tweetie gets a sort of ladies' man for hers. After meeting in two different restaurants, the two pairs proceed to the same motel.
Dewdrop and her guy have sex in their room. The guy demonstrates his lack of experience in bed.
Tweetie and her lover don't have sex though. It's because Tweetie does not want to put out, telling her lover why they just can't talk and maybe only have sex later in their relationship when she really wants to do it. her lover is pissed but what can he do?
On their second meeting, both pairs end up in the same motel and on the same day again. Dewdrop and her lover are having fun, while Tweetie's lover is frustrated because Tweetie is still not putting out, although he does get her naked under the sheets. The two pairs encounter each other in the elevator but they don't talk.
On their third tryst in the same motel, Tweetie sees her husband, who is a cop, along with other cops from her hotel room window. She thinks he is there to catch her so she panics. But apparently, they are going to arrest Dewdrop and not her. Tweetie's husband doesn't discover that she is just in the other room with her lover.
After the bust, Dewdrop and her husband have a talk. She points out to him about his own infidelity that lasted for three years. She also tells him that the only person she loves is him. But after that, after a few days, she meets her young lover and has sex with him again.
Tweetie, meanwhile, also meets her lover again. The guy tells her they should be more careful since her husband is a cop. This time she puts out and they have sex in his car. During the night, they are in a bar when her husband calls. She tells him she is just outside their house and then rushes to get home.
Tweetie comes to her lover's office and tries to make out with him on the stairs. He doesn't like the idea and tells her that they should stop seeing each other.
Dewdrop and Tweetie meet so that Dewdrop can pay her for the money she loaned from her earlier. They witness Tweetie's guy dating another chick. They fetch Dewdrop's guy along the way. Tweetie gets out of the car to give the two some privacy to make out.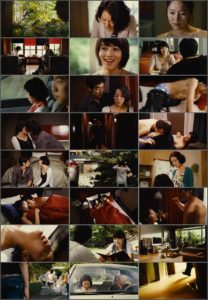 More info for A Good Day to Have an Affair
Caution: Aside from additional information for A Good Day to Have an Affair, the links below may contain download links. I am not responsible how you will use them.
Info: IMDB
Info + Download Link: Torrentz2.eu (with subs)
Watch Online: Youtube.com (no subs)