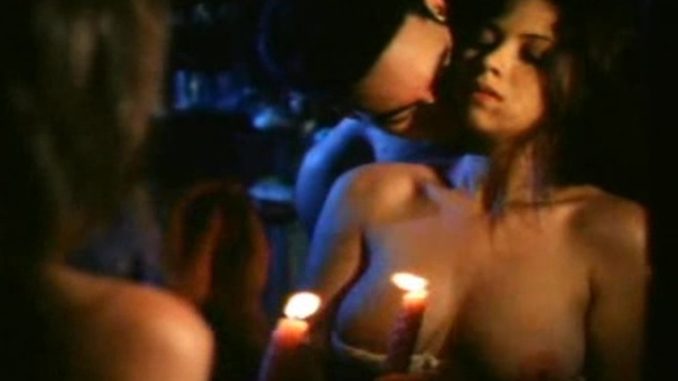 Description
This is the story of Joy, whose transgression is caused by lack of love and attention while growing up.
Details for the movie Bigay Hilig (2003)
Director: Joven Tan
Starring: Gardo Versoza, Carlos Morales, Red Riviera
Genre: Drama, Asian Erotica
Country: Philippines
Language: Filipino
Cheating Scenes in Bigay Hilig (2003)
Note: Watched without subtitles
Joy fucks her fiance's friend in the shower
One night, Joy wakes up from a nightmare wherein she is being gang-raped by her peers when she was young. This makes her horny, so she gets up, goes to the home of her fiance's friend and seduces him in the shower. The guy is reluctant, as Joy is his friend's fiancee after all, but he eventually gives in and starts having sex with Joy in the shower in a standing position.
The guy's house suddenly catches fire. He rushes out and leaves Joy in the bathroom. Gil, Joy's fiance, is a fireman and comes to the rescue. He sees Joy half naked in the shower. Although he didn't see her actually fucking his friend, the fact that she's there in his home tells him that she cheated on him.
Despite catching Joy cheating on her, Gil marries her. This does not sit well with Allan, Gil's friend and co-worker. He makes some insulting remarks about Joy being a slut in the wedding reception, so he and Gil have a physical altercation.
Joy meets the DVD rental guy
So Joy starts her married life. One day, while her husband is at work, Joy checks out her neighborhood's DVD rental store. Here, she meets Tambok, the shop owner, who shows an interest in her. He is quite a hunk and is fast too, as he smoothly holds her hand and makes it linger while she is browsing for DVDs.
Later, Tambok sends a kid to Joy's home to deliver some adult DVDs. While her husband is sleeping, Joy watches the DVDs and masturbates to them.
Joy hits on her high school teacher
Joy hasn't finished high school yet, so her husband insists that she resumes it. Joy takes a liking to her hunky teacher. So during class, she sticks out her tongue and winks at him. She follows him after class to an empty classroom but sees him giving blowjob to a male janitor. So she cannot cheat at this time because her prospect is gay.
Joy fucks the DVD rental guy
Tambok visits Joy at her house while her husband is at work. Initially, Joy is feisty towards him, but she easily gives in when he lets himself in and starts making his move. They have sex while Joy's husband is fighting a fire and witnessing one of his co-workers die in the process.
A little later in the film, we see Joy fucking Tambok again while her husband is fighting another fire.
Allan starts hitting on Joy
Gil's ego clashes with Allan get progressively worse. Allan's run-ins with Joy in the streets suddenly get more frequent. One time, he sees her browsing some adult DVDs on a street stall. He asks her if she really needs those DVDs to get off. She walks away pissed, while he smirks.
One day, Allan visits Joy at her house and directly tells her what he wants: to fuck her. Joy rebuffs him this time as it seems that she really hates him.
Joy gives in to Allan's advances
Meanwhile, Tambok's transvestite partner arrives and starts living with him. This gives him less time to fuck Joy. Joy is pissed, so even if she hates Allan, she now gives in and comes with him to an adult theatre. Inside, she sits on Allan's lap and rides him while he fondles her boobs from behind.
Gil overhears Allan bragging about fucking Joy, then catches Joy fucking the DVD rental guy
One day, Allan brags to another co-worker that he fucked Joy. Gil hears this but he doesn't confront Allan. Instead, he goes to a park and contemplates. Then, he goes home and catches Joy fucking Tambok. He also doesn't confront them and just silently cries while watching his wife suck Tambok's dick. He leaves quietly and cries on a bar somewhere while drinking.
Gil goes on cuckold overdrive
Gil's ex-girlfriend offers him a chance to get revenge on his wife. But when they are already inside a hotel room and she is already naked under a towel and ready to be fucked, Gil tells her that he can't do it and leaves her.
Gil then goes back to his wife to tell her that he still wants to be with her, despite catching her cheating on him a few times already. Joy urges him to be a man and get mad at her, shout at her, etc. But Gil doesn't do anything of that sort and instead hugs her from behind while crying.
Allan fucks Joy one last time
Gil confronts Allan and tells him that Joy will never fuck someone like him. They have another physical altercation. As if to prove Gil wrong, Allan meets Joy later and fucks her. Maybe he will bring this up later if he and Gil will have another argument and Gil will insist again that Joy will never fuck someone like him. However, he may not get his chance because the room catches fire and suddenly, they are both surrounded by fire.
Meanwhile, Gil is outside and has a chance to save his wife again after she just cheated on him. Will he save her this time? Or has he had enough from her?
More info for the movie Bigay Hilig (2003)
IMDB Info: IMDB
Watch Full Movie Online