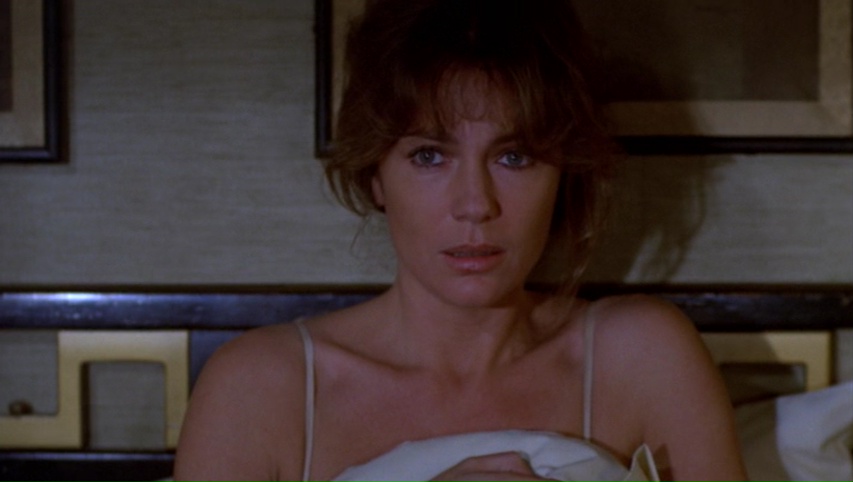 Description
Jonathan gets in a classy prep school and becomes roommate with the rich Skip. They become close but trouble between them begins when Skip finds out the identity of the older woman that Jonathan is dating.
Details for the movie Class (1983)
Director: Lewis John Carlino
Starring: Jacqueline Bisset, Rob Lowe, Andrew McCarthy, Virginia Madsen
Country: USA
Cheating Scenes in Class (1983)
Jonathan (Andrew McCarthy) and Skip (Rob Lowe) become dorm roommates. One night Skip tells Jonathan to go to a bar and find a girl for him and even gives him $100 to spend (Skip is a rich kid).
Jonathan goes to the bar and meets a hot MILF named Ellen (Jacqueline Bisset). Ellen takes a liking to him and they hook up. They make out and have sex in an elevator and then in a hotel room somewhere. Ellen is the mother of Skip but Jonathan doesn't know that. Neither does Ellen know that Jonathan is a friend of his son.
When Jonathan goes back to his dorm, he shows Ellen's sexy red panties to his dorm mates. Everyone, including Skip, cheers him on. He instantly becomes the campus hero. They hang Ellen's sexy red panties above Skip's bed. Skip is clueless that it is his mom's panties.
Jonathan and Ellen meets once again in a hotel room and they make love. He tells her he loves her.
While shopping for clothes, Ellen sees the ID card of Jonathan and discovers he is underage. So she bails out on him. The only thing Jonathan knows about her is her first name so he thinks he's not gonna see her again.
Skip invites Jonathan to spend the Chrismas vacation at their home. There, Jonathan meets Skip's parents and is surprised to find that the MILF he was fucking is Skip's mom. Ellen is surprised as well. During dinner, Skip's dad tells Jonathan that evidently they have something in common and asks him if he could guess what it is. Jonathan and Ellen gives each other a knowing look, because one thing they do have in common is screwing Ellen. Ellen gets nervous and breaks her wine glass. Skip's dad answers his own question and says he too is the first boy in his class to be accepted at Harvard like Jonathan.
During the night, Ellen enters Jonathan's room to talk to him and apologize. Skip suddenly knocks on the door. Ellen has to go out of the door leading to the balcony to hide.
Jonathan and Ellen meet again in a hotel room later. Unknown to Jonathan, Skip follows him just to surprise him. Skip barges in along with their friends to his room and shouts "Surprise!" However, he is the one who gets surprised when he sees his mom half-naked in the bed. He leaves the room disappointed but didn't let their other friends know that it is his mom. One of their friends have to be pulled away because he is staring lustily at Ellen and probably thinks Jonathan is lucky to be banging this MILF.
Look out for Virginia Madsen showing us one of her luscious humongous breasts.
More info for the movie Class (1983)
Caution: Aside from additional information for the movie Class (1983), the links below may contain download links. I am not responsible how you will use them.
IMDb Info: IMDB
Info + Download: Rarelust.com