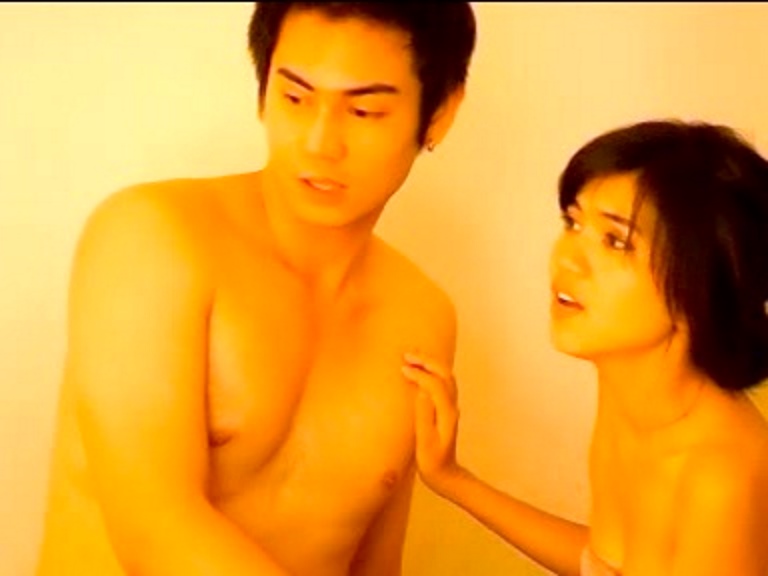 Description
A guy secretly installs hidden cameras on unsuspecting hot girls' bedrooms and gets paid by clients who like to watch these girls get it on with their boyfriends. He gets himself into trouble when he screws one of these girls which happens to have a jealous boyfriend.
Details for the movie Clip Ded Hia Chob (2011)
Other Title: คลิปเด็ดเฮียชอบๆ
Director:
Starring: Rinlada Matchakua, Patty Phiyada
Genre: Asian Erotica
Country: Thailand
Cheating Scenes in Clip Ded Hia Chob (2011)
Note: Watched without subtitles.
A client who likes to get off watching hidden camera footages of hot girls getting naked and having sex calls the installer guy. He says he wants new videos from another girl and will pay for it.
The installer guy asks the caretaker of an apartment building if he knows of a hot girl that lives in the building. The caretaker has one in mind, and her name is Rinlada.
So the installer guy and the caretaker enter Rinlada's room without her consent. The installer guy installs a hidden camera on her airconditioning unit. Rinlada arrives and catches them inside her room. She angrily asks them what they're doing. The installer guy tells her that he is the building's repairman and that he is just checking her unit for flaws. He is one charming and good-looking guy so he gets away with it. The caretaker nearly dies because that would have meant his job.
One night, after drinking with her friends, Rinlada fucks her boyfriend inside her room. She rides him and he gives her a good pounding. The installer guy witnesses all of this via the hidden camera.
One day, the installer guy comes across Rinlada outside her building. He asks her if he can walk with her. She agrees, since it seems that she's interested in him.
Rinlada's boyfriend sees them walking together while riding his car. He stops his car, calls her and asks her where she's at and who she's with. She lies to him.
The installer guy walks Rinlada back to her place, so I guess they have an insta-date on that day.
The next day, the installer guy comes to Rinlada's room with a cake. She lets him in. They eat the cake. She feeds him the cake using the same fork that she's putting in her mouth. He wipes the bits of cake that gets around her mouth with his finger and she does the same to him too. They share laughter and they look really sweet.
Eventually, everytime she wipes morsel of cake from his lips, their heads get too close to each other that they almost touch. Until she takes his head and pulls it closer to hers and just kisses him. He lays her down in her bed and makes out with her.
Needless to say, the installer guy fucks Rinlada. She takes his shorts off and rides him while moaning loudly. He fucks her missionary style and they both cum.
Rinlada's boyfriend arrives while the installer guy is still in her room
While Rinlada and the installer guy are having their post-coital make-out session, her boyfriend arrives and knocks on her door. The installer guy quickly hides behind the door wearing nothing but shorts. Rinlada, wrapped in towel and her pussy probably still tingling and swollen from getting fucked earlier, opens the door and receives her boyfriend. Her boyfriend enters and checks her room, including her bathroom for any clues of her fucking another guy. The installer guy uses this opportunity and exits. Rinlada is quite relieved when she realizes that the installer guy is able to exit her room without her boyfriend noticing.
Rinlada pacifies her boyfriend and assures her that she isn't screwing around. And to remove his doubt completely, she fucks him. Rinlada has no problem giving her boyfriend some quality fuck even though she just had sex with another guy earlier. The excitement of nearly getting caught probably even made her hornier. She rides her boyfriend wildly and moans louder than ever.
The installer guy's client sees all of Rinlada's fucking via the hidden camera and he is very satisfied. The boyfriend did find out about it so he, along with two friends, confronts the client in his home. They tell him to make the installer guy come there. When the installer guy arrives, they beat him up.
More info for the movie Clip Ded Hia Chob (2011)
Info + Download Link: Loadnangr.com
Info + VCD: Ethaicd.com