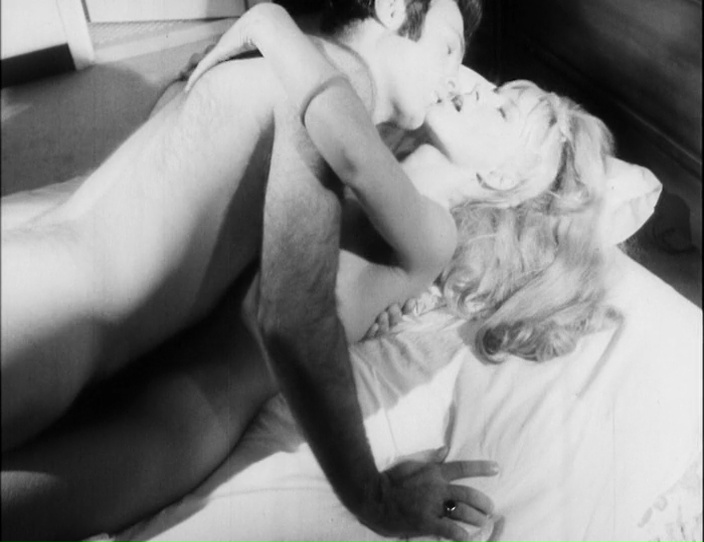 Description
A rich young man is buried alive when he is having a cataleptic fit by his scheming wife and her lover, who happens to be his doctor. He manages to dig himself out of his grave, but the betrayal unhinges him mentally and he goes on a sexual rampage. He tries to rape a woman, joins in a lesbian couple's action, makes love to a woman he met on the street and replaces a husband who is making love to his wife without the couple's consent. After all of that, he takes his revenge on his wife and her lover.
Details for the movie Love After Death (1968)
Other Titles: Unsatisfied Love
Director: Glauco Del Mar
Starring: Guillermo De Córdova, Roberto Maurano, Carmin O'Neal, Sheila Britt, Jennifer Welles
Genre: Suspense, Classic Erotica
Country: Argentina
Language: English
Cheating Scenes in Love After Death (1968)
After Montel's funeral, his wife Sofia comes with Dr. Anderson to his place. There, they make out on the couch, with Dr. Anderson petting and necking Sofia and fondling her boobs as well. She tells him that she's still a virgin because Montel was too sick to fuck her during their six months of being together.
Later, Dr. Anderson asks Sofia why she didn't allow him to perform an autopsy on Montel, therefore killing him and not burying him alive. She answers that she wanted Montel buried alive because he deceived her, that he didn't tell her that he was sick when he married her. Thus, she took pleasure in burying him alive.
When Dr. Anderson orders his henchmen to do a task, Sofia pulls one of the henchmen aside and makes out with him. Apparently, she is also having relations with him and their plan is to also kill Dr. Anderson when he gets back from his job. In the meantime, he tells her to keep Dr. Anderson busy while he's gone. So she did, by making love to him.
Montel's sexual rampage
Meanwhile, Montel gets out of his grave and have some sexual adventures of his own.
He tries to rape a chick. The chick turns willing in the middle of it but Montel leaves her because he cannot do it.
He slips into a lesbian couple's room while they are making love. One of the girls is the sexy Jennifer Welles. When he gets found out, the lesbians are willing to let him join them, but he leaves.
Montel meets a chick on the street. She invites him to her apartment. This time, Montel is able to bang her and declares himself sick-free and a real man.
Montel slips into a couple's room while they are having sex. When the husband enters the bathroom, he gives him a karate chop which renders him unconscious. Then he comes to the bed and makes love to the sexy, blonde wife. She has her eyes closed so he is able to have his way with her for quite a while. When she opens her eyes, she sees that the guy on top of her is not her husband so she pushes him off her. Montel picks up his clothes and escapes.
Final Thoughts
The sexiest scene for me is when Montel switches places with a husband and makes love to the wife without her realizing, at least for a while, that he isn't her husband anymore.
More info for Love After Death (1968)
IMDB Info: IMDB
Info + Download Link: Rarelust.com
Info + Download Link: Wipfilms.net