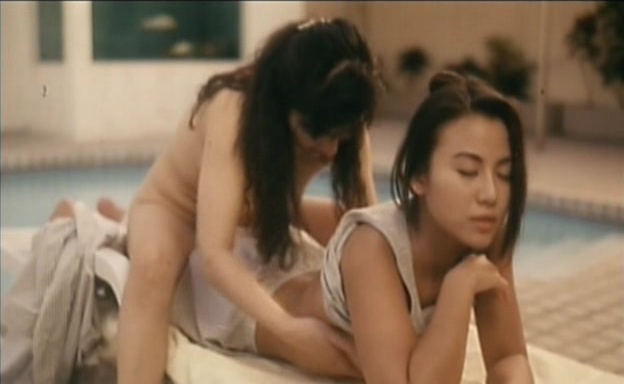 Description
Amy (Daisy Wong) and Ann (Ellen Chan) are a lesbian couple but their relationship gets disrupted when Amy wants her male suitor to impregnate him and falls in love with him in the process. Ann makes Amy choose between them, and when she cannot do so easily, Ann offers her a way out, which is for both of them to commit suicide. Unfortunately, only Amy dies, so from then on, Ann starts killing men who enter her life.
Details for The Love That Is Wrong (1993)
Other titles: Nan yu nu, 男與女
Director: Hoh Shu-Pau
Starring: Ellen Chan, Daisy Wong, Michael Tao,  Lam Wai
Genre: Asian Erotica, Comedy, CAT III, Thriller
Country: Hong Kong
Language: Cantonese/English Subbed
Cheating Scenes in The Love That Is Wrong (1993)
Amy receives a bouquet of flowers anonymously. When Ann asks her about it, she says it could be from their co-worker Wang. Amy teases Ann and tells her that she has a rival now. Ann gets annoyed.
Amy talks to Ann one day and tells her that she wants a baby and that she wants Wang to be the father. Ann suggests adoption, but Amy wants it to be her own blood (and she really probably wants to be screwed by Wang too). So Ann reluctantly agrees.
Amy asks Wang to go out one day. After their date, she invites him to her home and fucks him. Ann silently arrives and witnesses her girlfriend getting doggied by Wang through the open bedroom door. It seems Amy is really enjoying her impregnation session with Wang. Ann looks mad and hurt, but since it was a done deal, she really can't do anything so she just walks away.
Amy meets Wang several times more to have sex. One day, Ann shows Amy her positive pregnancy test results. Ann tells her to end her relationship with Wang since she has now achieved her aim. Ann looks sad and reluctant. And when she is about to tell Wang about it on their date, Wang proposes to her. Ann is more conflicted than ever, and you should see the movie to know what will happen from here.
Daisy Wong (Amy) gets naked a lot in this movie, but interestingly, Ellen Chan (Ann), who is the main star, doesn't. It seems that she is using a body double everytime there are naked shots of her (aka her face is not shown during those shots). The most genuinely naked shot we get of her is when she is riding a guy and her breast is being fondled/covered by the guy's hands.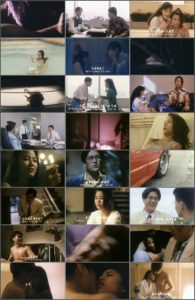 More info for The Love That Is Wrong (1993)
IMDB Info: IMDB
HKMDB Info: HKMDB
Info + Download Link: Rarelust.com
Info + Download Link: Qutevideo