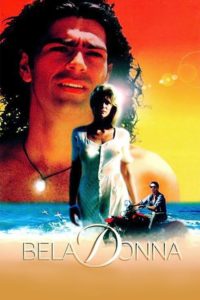 ---
American couple move to the State of Ceará, Brazil, in the 1930s. The husband is looking for oil. His beautiful wife, Donna, soon falls in love with a rude but charming fisherman. The forbidden romance may destroy her marriage and upset the morals of the small village where they live.
|
Cheating Notes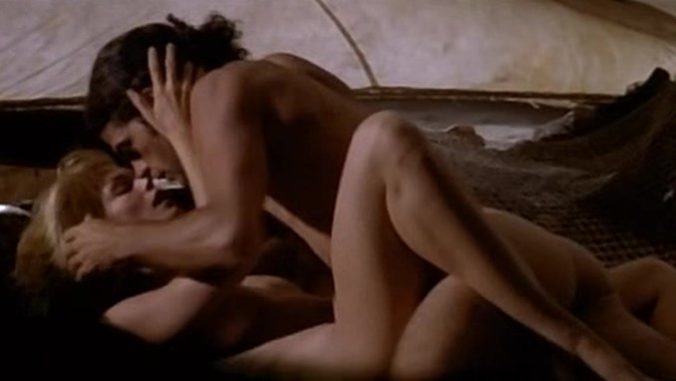 While Donna (Natasha Henstridge) and her husband are on a ship to Brazil, we know already how desirable she is when their doctor colleague cops a feel of her boob when she faints on the deck and no one's looking. We also see Donna revealing a bit her tendency to be a slut when she lights the cigar of the doctor at the dinner table earlier. Her husband tells her that lighting someone's cigar is much too intimate and hence, she's behaving improperly. Nevertheless, it's still all good between them at this point and Donna gives her husband a nice, little make-out session on the deck.
The couple gets settled in their destination in Brazil. It is located near a beach with sandy, desert-like areas. One day while visiting the house of their colleagues, Donna hears a male singing outside and is mesmerized by his good voice. She asks her maid later who that voice belongs to and finds out that it belongs to Nô, a hunky Latino guy.
Donna takes a walk in a desert-like area and encounters Nô for the first time. Their looks linger at each other and they smile a bit at each other, too. Nô is on his way to shagging this bored but hot wife.
One night, Donna, sleeping next to her husband and in her nightgown, is awakened by Nô's singing. She gets up and comes out. She sees Nô singing from a distance and it seems that his song is for her and is serenading her. Donna gets aroused and she touches her boobs.
During daytime, Donna is swimming at the beach when Nô arrives on his raft. She smiles at him and they talk. She comes up to his raft and they sail, talk, laugh and stare at each other in a flirtatious way. After that, Donna brings home a fish for her husband.
Donna talks to Lidia, wife of her husband's colleague. Based on their dialogue, it seems that Donna is set on fucking the hot Latino guy already.
One day, Donna goes to the village where there is a festivity. She sees Nô celebrating with the villagers, smiles at him and then they look at each other sensually. I think she is ready to be fucked at this point. Later that night, Donna comes to Nô on the area in the beach where he parks his raft. They kiss without saying anything to each other. He kisses her all over. She kisses back. They take off their clothes while they continue on kissing. They fuck in the sand beside Nô's raft. It's a good cheating scene. The making-out is very sensual and we see Natasha Henstridge's hot, naked body.
Several days later, Donna and Nô sail and make out naked in the raft. They probably also have sex too. They go to an uninhabited island and also make out there. Unfortunately, the shots here are far and mostly aerial, so you have to get close to your TV to see some.
We see the two chase each other and make out on a pool in the desert (Donna has clothes). And later, they make out and have sex on the sand in another area in the desert (they're both naked). Very brief scenes, though.
Summary
Overall, I liked this movie. I mean, it's the hot Natasha Henstridge playing the cheating wife, what else do you want? Well, the only thing I'd ask for is that their other cheating scenes should have been longer as there's only really one proper cheating scene here: their sex beside the raft. The others are either too short or the shots are far.
More info for Bella Donna
Info + Download Link: Rarelust.com
---
---
---