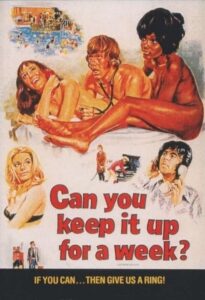 ---
The male protagonist here (Jeremy Bulloch) has a gorgeous, generously breasted fiancée (played by the gorgeous, generously breasted Jill Damas from "Sex Play") who refuses to marry him unless he proves he can "keep it up for a week", that is keep a job for a week (get your minds out of the gutter, people). This doesn't seem like all that difficult a task for someone to be considered marriage material, but ironically it results in him cheating on her about a dozen times.

Our hero goes to work for an employment agency called "Here to Service You" and has all manner of misadventures with the invariably horny female clientèle. He meets a libidinous female shrink (played by popular sex star Sue Longhurst), a ditzy housewife in a bathtub with her toe somehow stuck in a drain, three nubile sisters who he "babysits" (and who show him that they're WAY too mature to need a babysitter), and he even gets involved in an interracial three-way with a black female patient and white female doctor in a medical office. The ending involves an incredibly hypocritical double-standard plot twist in which his fiancée is in danger of being seduced into bed by another man (as opposed to say a dozen other men, which would only be fair), and he has to rush to the rescue. But rest assured that whatever happens, the male sex fantasy here is not going to be punctured.
|
Cheating Notes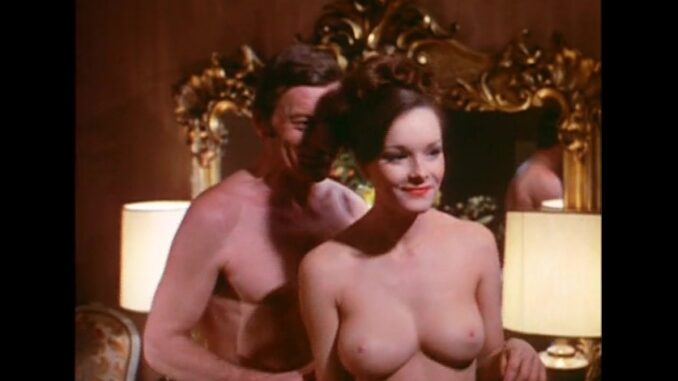 One of the guy's clients is a ditzy housewife who gets her toe stuck in a faucet in the bathtub, so he helps her. He gets into the bathtub and she rubs her pussy on his shin while he's trying to get her toe out. Her husband comes home and finds them in a compromising position.
Halfway through the movie, the guy's fiancee makes out and pets with a female client of his on the couch. She is naked down to her panties. He pretended to leave earlier but actually hid in the cupboard and gets to watch them.
At the end part of the movie, the guy's boss manages to get the fiancee naked down to her panties in his bedroom during a party at his home. He also gets to grope her breasts. I think he convinced her to fake a raping scenario between them so that her fiance can rescue her. He starts forcing himself on her on the bed and her fiance does come and save her.
The black female patient involved in a threesome with the guy turns out to be engaged. She comes with her black fiance to the party and gets into a foursome with him and two white females.
Watch Full Movie Online
---
---
---