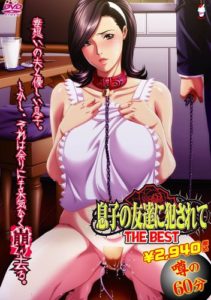 ---
Kazushi's mom, Youko has not been banged by her husband for a year and always masturbates. Kazushi's classmate Ryouto knows this and takes advantage of it. Meanwhile, Kazushi also gets lucky with Ryouto's divorced mom.

The terms "desperate" and "housewife" are often seen together these days, and that combination definitely applies to Yoko. Her life with her hard-working husband is a pleasant one for the most part, but the sounds of marital bliss have not been heard from their bedroom lately. She is forced to take matters into her own hands, until the day her son brings home a very handsome friend. Yoko doesn't realize it at first, but the person who just caught her eye also has her caught in a downward spiral of perversion.
|
Cheating Notes
Youko's husband hasn't made love to her in a year. She masturbates and after coming, asks herself why she's doing it in the middle of the day.
Kazushi likes older women. Ryouto, his classmate, trolls him about his mom Youko, saying how hot she is. Kazushi trolls Ryouto about his mom too. Ryouto jokingly tells him he can bang his divorced mom if he wants.
Youko masturbates again, this time shouting his son's name. Ryouto appears in front of her and teases her about using her son as masturbation fodder. He tells her he knows she's always masturbating at the same time daily. Then he blackmails her and bangs her. While he is bonking her from behind, Youko is thinking that she can't believe that his first cock in a year is rape and it's his son's classmate, but nevertheless, she thinks it feels good and enjoys it. When Ryouto tells her to suck his dick, she tells him "But you're my son's friend. And I have a husband!"
Ryouto also brings Kazishu's mom outdoors and bangs her while she's leaning on a tree.
Meanwhile back at Ryouto's home, Kazushi is also banging Ryouto's divorced mom, Misao. One time they're having sex, Misao calls his son in. Ryouto reveals to Kazushi that he's the one who pushed for his mom and his girlfriend, Konami to bang him.
Ryouto sets Kazushi to screw somebody with a towel covering her face. She turns out to be Kazushi's own mom. When he speaks, Youko recognizes his voice and removes the towel off her face. In between moans she tells her son to stop. Kazushi says he can't. She says this couldn't happen between a mother and her son, but damn it feels good to be screwed by her son. They both come.
Eventually, Kazushi's mom gets divorced but it's ok because she has her son to take care of her sexual needs.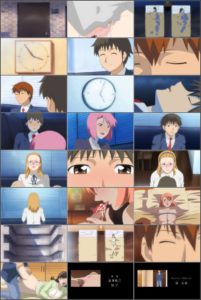 ---
---
---