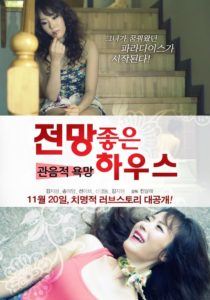 ---
So-hee has been seeing Tae-woo for a long time. One day, a new man named Eun-hyeok appears in front of her and proposes. So-hee has already promised to marry Tae-woo so she's not easily moved by Eun-hyeok's proposal. She refuses him by saying she loves women more than men and he becomes shocked. He goes under gender transplant to go back to her and becomes a woman named Eun-joo. Eun-joo moves close to So-hee and Tae-woo's honeymoon house. She watches their life day by day. She plots to take So-hee away from Tae-woo...
More Info: TMDB
|
Cheating Notes
Filed under Failed Cheating Situation.
By reading the synopsis above, you'd think Eun-hyeok (who has undergone gender transplant and is played by a real female) will have lesbian sex with the wife, So-hee. But such is not the case. She instead has sex with the husband in the endmost part of the film and she deliberately lets So-hee catch them to make her leave him. She kisses So-hee on her way out, though, so that's the best revenge cheating scene we get out of this movie if you can even call it that.
The bulk of the movie is made up of So-hee having several sex scenes with her husband. Fine by me, because I like Kim Ji-won. The husband also fucks a couple of whores (or was it just one whore and he fucks her two times?). There's a kissing scene between Eun-hyeok and So-hee at 50:56 but it seems to be just a fantasy sequence.
More Info for House With A Good View - Voyeuristic Desire (2013)
---
---
---