---
Kyoka Sagara and Hinako Aoki are two housewives who live in an apartment building in which the young Hayami is working as a part-time caretaker/superintendent. Both of their husbands do have sex with them once in a while, but it seems their cravings are more than what their overworked husbands can give them, so they turn towards Hayami to make up for that inadequacy.
|
Cheating Notes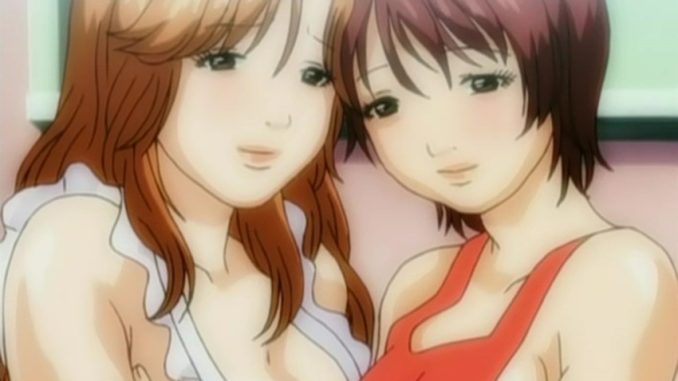 Hayami is a young guy who is working as a caretaker/superintendent for a condo building. Kyoka Sagara and Hinako Aoki are two housewives who live in his condo along with their husbands.
Hinako first cheats with Hayami when she calls him one day to see what's wrong with her washing machine. When he comes to her unit to check the machine out, she is in the middle of taking a shower. She starts putting a bra on before facing him but then changes her mind and just drops the bra in the laundry basket. When she faces Hayami, she's bra-less and wears a thin, transparent shirt that shows her cleavage and tits well. She comes on to Hayami while he is looking at the machine and they have sex inside the apartment and outside on the balcony.
Kyoka, the second housewife, first cheats with Hayami when she calls him one day to confide with him about her problems. You see, Kyoka is being neglected sexually by her husband because he is always too tired because of work. When Hayami comes to her home, she spills tea on his pants. She wipes it which gives him an erection. Because of that, he attacks her sexually. She responds positively, but becomes reluctant a bit, saying she has a husband. Hayami says it's alright and continues banging her. He fingers and tit fucks her and she jerks and blows him off until he comes on her breasts. After coming, his dick becomes hard and ready to have a second round to maybe penetrate her this time, but she bails out, saying she's no good. So no actual penetration for the two at this point.
The next day, Hinako calls Hayami and invites him to come tonight because her husband is not gonna be home. He accepts. Hinako does not know that Kyoka is blowing Hayami off while he is sitting at the front desk of the superintendent's office, saying hi to people passing by in his counter window, and currently talking to her.
At night, Hayami comes to Hinako's flat and requests her to wear just her apron. She obliges, and she looks nice wearing just the apron, displaying her nice behind. While eating, Hayami can't control himself and says he wants to eat Hinako instead. He attacks her and they have sex.
A cooking class is held in their apartment building for the housewives. The two housewives and Hayami join. Hayami fingers Kyoka secretly while the others are busy cooking. She jerks him off using a cookbook as a cover. Then she sucks his cock behind a table, hidden from the other housewives. He gives her a facial. Suddenly, Hinako is there behind them and has discovered their affair.
They have a sit-down later and Hinako tells Kyoka that she and Hayami are having an affair too. Everyone seems fine with the situation and Kyoka suggests they can even have a three-way. They do exactly that. The two housewives kiss each other and lick Hayami's dick from both sides. They both sit on Hayami, with Hinako on his dick and Kyoka on his face. The two housewives kiss and touch each other's boobies while they're both pumping on top of Hayami. They both come at the same time.
One day, Hayami and Kyoka go out to a shopping mall and he tells her to wear a see-through skirt that clearly shows her panties. Perverts in the mall can't help but stare at her. The two proceed to bang in a dressing room.
Next time, Kyoka invites Hayami and Hinako to have tea in her apartment. There, it's the two wearing just an apron this time. With such a pretty sight, what's Hayami to do? So they proceed to have their second three-way. In the bed, the two housewives are in a 69 position. Hinako is on top of Kyoka licking her cunt. Kyoka lies on her back and is licking Hinako's cunt as well. Hayami meanwhile, is pounding Kyoka from the back. So Hinako is getting double pleasure because she is being penetrated by Hayami while Kyoka is licking her vagina.
While they are doing it in bed, Kyoka's husband calls. The answering machine activates and you can hear her husband's voice asking her to check if he left his documents in their house. While he is talking, Kyoka is still below the two, watching Hayami's cock going in and out of Hinako's cunt in front of her face. Hinako asks her if she will call back. Hayami suddenly ejaculates and drips cum all over Kyoka's face. Hinako asks her again if she thinks it's a good idea to call back her husband. Kyoka, in response, sucks Hayami's dick instead. Hinako says "I Guess she made her decision." Meaning, Kyoka now chooses to be penetrated by Hayami. With confirmation from Kyoka, Hayami enters her, and it feels special to him because this is the first time he penetrates her. Kyoka tells him to come inside and so he did.
One day, a party is held at Kyoka's house and Hinako and her husband are both invited. Kyoka's husband welcomes Hinako's husband, but both of their wives are nowhere to be found. Hinako's husband says Hinako is running late while Kyoka's husband says Kyoka went out to buy something and mutters that she wanted the party and yet she is not there to greet their guest. They don't know that their wives are in the bedroom and having a threesome with Hayami. Hayami remarks how tight their cunts are, and Hinako says that's because her husband is just outside the room. Both housewives agree that this kind of thrill feels really good. Hayami comes on both of their bodies. Hayami says they should call it a day because he doesn't want their husbands to get suspicious. The two housewives smile naughtily at each other and pull him back to the bed.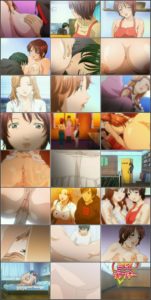 Watch Online + Download Link: Kisshentai.net
---
---
---