---
Actor Gyung-soo is passed over and decides to leave Seoul and visit a friend. His friend tells him that the "Turning Gate" legend foreshadows future events. During his visit, Gyung-soo meets Myung-sook, who quickly falls for him. After a night of passion, he boards the train back to Seoul and meets a married woman who claims to know him. Gyung-soo thinks he may love her, but perhaps he's chosen the wrong woman.
|
Cheating Notes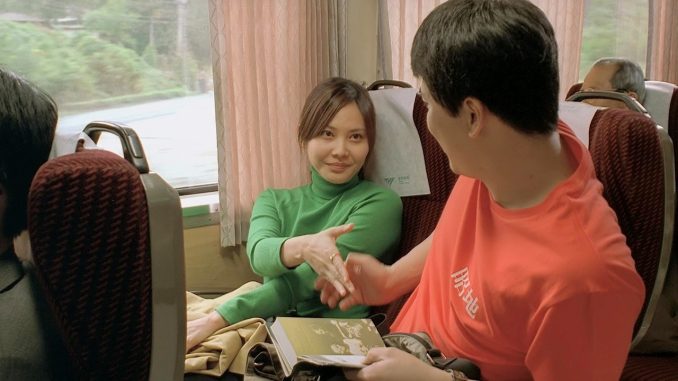 Actor fucks his friend's prospect
In the first half of the film, the main guy, a marginally famous actor, visits a friend in another city. He hangs out with him and his attractive female friend who is a dance instructor. Apparently, the chick knows about him and likes him. She's even the one who tells him that they should kiss to break the ice while they're having drinks (and while the actor's friend is in the bathroom). The actor fucks the chick in a motel at 34:42.
The conflict is that the actor's friend is actually wooing the chick, and he probably introduced her to the actor thinking that she will think of him in higher regard because he's friends with an actor. Unfortunately, the plan backfires for him.. or maybe not. Because see, the chick likes to get serious with the actor, but he doesn't want to. So before he leaves, the chick goes to a motel with the actor's friend and while the friend is in the bathroom, she calls the actor and tells him that she will fuck his friend if the actor will not get serious with her. He says no, so I guess it is implied that she lets the actor's friend fuck her after that. So in the end, the friend's plan actually worked, but the path leading there isn't what he expected.
Actor fucks a wife he meets in a train: she's someone from his past
The actor takes a train to return home. He sits beside a pretty chick who introduces herself to him. She says that she recognizes him and has seen him act in some plays. The actor is intrigued and follows her home after she steps off the train. After some scenes involving her family members (not her husband as he will appear only later), they meet and talk in a restaurant, where he finds out that they had met when they were still in school a long time ago. She also tells him that she's married... to an older man who is a professor.
After their date, the actor and the wife fuck in a motel (1:27:08). It's a good one, and for the wilf-loving audience, a good reward after the characters' long dialogs that don't give us any hint if she's going to cheat. They fuck again a few scenes later, also in a motel (1:40:36).
---
---
---