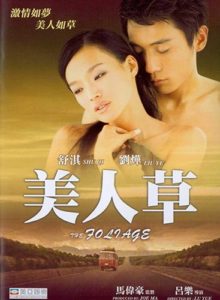 ---
In the summer of 1974, Xing-Yu (Shu Qi) is among China's young intellectuals that are sent to the countryside to join the construction infantry. There, she meets and falls in love with Sie-Mong. Her company leader and childhood sweetheart, Ding Guo Yuan, gets into a fight with Sie-Mong. She tries to make peace between the two jealous rivals but her attempts for truce further draw her into a forbidden and passionate relationship with Xing-Yu instead.
|
Cheating Notes
Xing-Yu (Shu Qi) and her childhood sweetheart, Ding Guo, are among the young intellectuals sent to the countryside by their government. There, Xing-Yu meets Sie-Mong, a mischievous and rebellious young intellectual, and falls in love with him after several interactions. In the middle of the movie, they make out and have sex on a bench. Although we see them kiss, we only see the beginning of their sex, and with only the silhouettes of their bodies at that. Sie-Mong lays Xing-Yu down on the bench, unbuttons her blouse and her pants, climbs on top of her and kisses her body a little. The scene cuts off after that.
Ding Guo becomes aware of Xing-yu's attraction to Sie-Mong so he lures Sie-Mong and has him beaten up by members of his company.
Several years later, Xing-Yu is now married to Ding Guo and they now live in the big city with their daughter. One day, she gets a call from Sie-Mong, telling her that he is in town and he wants to meet her. She gives her husband some excuse then she goes out to meet Xing-Yu. However, when she gets to their meeting place, she changes her mind and returns home without meeting him. That's too bad, imagine the wild sex they would have had after not seeing each other for years.
Watch Full Movie Online
---
---
---