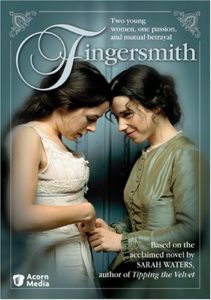 ---
Susan "Sue" Trinder is a fingersmith (British slang for thief) who lives in the slums of London with a baby farmer (person who looks after unwanted babies) Mrs.Sucksby. When a once rich man, who gambled all his money away, presents them with a scam that has a payout of 40,000 pounds, Sue signs on to swindle rich Maud Lilly. Maud is an orphan who lives with her uncle, but what exactly is going on in the Lilly house? Sue will pose as Maud's maid so that Mr. Rivers (the gentleman) can get close to and eventually marry her. Their plan is to put Maud in the madhouse and take the money for themselves. All goes astray though when Sue falls in love with Maud. And the question is: Who can you trust?
|
Cheating Notes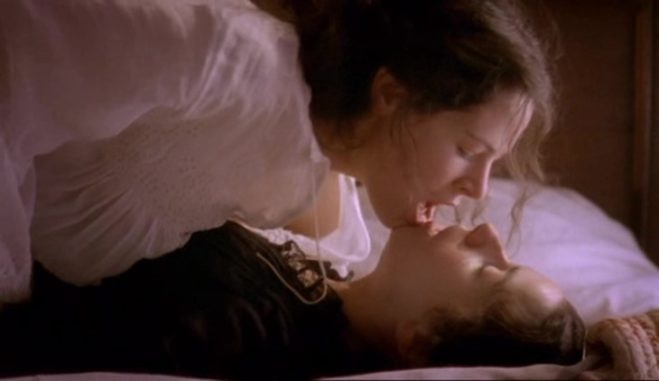 On the night before Maud's wedding to Mr. Silver, her maid Sue teaches her what she must do on her wedding night, so they kiss, make out and do the initial parts of lovemaking on the bed. Sue goes on top of Maud and fingers her.
On Maud's wedding night, while Sue is preparing her for her copulation with Mr. Silver, things get heated up between the two ladies and so they start kissing again. Maud lays Sue on the bed and tells her that she wants to feel her inside her (by way of her hand since she has no dick) while kissing her passionately. Mr. Silver peeks through the door and sees them but he doesn't disturb them and just walks away because it is a part of his plan.
Plot twists may change the cheating angle.
This movie and the Korean-produced The Handmaiden (2017) are both adaptations of Sarah Waters' novel Fingersmith. Both versions are good.
Watch Full Episodes Online
Episode 1/2 (where both cheating scenes happen)
Episode 2/2
---
---
---