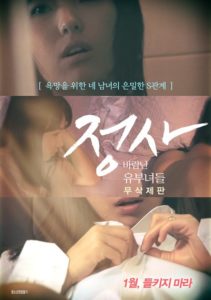 ---
Hancinema description: A married couple of six years are having trouble. Secretly meeting up with other married people revitalizes their individual passions.

Google translation: In the sixth year of marriage, Young-min couple and couple Cheol-jun and Harbin have deepened their relationship for their desire. The secret encounter between the brother-in-law and the brother-in-law, and the fresh enjoyment relationship with the sister and the brother-boyfriend continue each other in secret. S relationship biting bite of four people who enjoy very secret date in thorough secret for their desire!

Will it be caught?
More Info: TMDB
|
Cheating Notes
The movie's confusing but I'll try to interpret it as best as I can. In the first 20 minutes, these two guys have sex with their respective mistresses separately. After sex, each guy tells his mistress about his affair with the other guy's wife. So we get flashbacks of each guy fucking the other guy's wife whenever he got the chance. Both couples live under one roof. From the movie's Google-translated description above, my best interpretation is that the two guys' wives are sisters. So that means each wife is cheating on her husband with her brother-in-law. Also, one of them could just be not married yet, just a boyfriend-girlfriend relationship because the word "boyfriend" is there somewhere in the translation (plus Hancinema.net description indicates there is only one married couple).
Watch Full Movie Online: Dydy.me
---
---
---