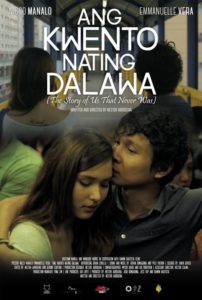 ---
As clouds begin to roll, we see the afternoon life of a busy city. Cars jam the streets, as people make squares of the side streets they walk on. People queue in line as they try to board the city train. This is SAM's picture of his daily route to the university. He is a young filmmaker, who in his daily commute, picks up his girlfriend ISA from the train station before heading to school together.
|
Cheating Notes
We see Isa (Emmanuelle Vera) and Sam riding the train and they look like a regular sweet couple doing couple stuff, like holding each other close. The movie makes it seem that they are both students. (Spoiler) But later, we find out that Sam is actually a teacher of Isa in one of her classes and that Isa has a boyfriend (a fellow student which we don't see in the movie). So yeah, Isa is cheating on her boyfriend with her teacher.
No nudity, kissing or sex scenes. Too bad, 'coz Isa is kinda cute.
---
---
---