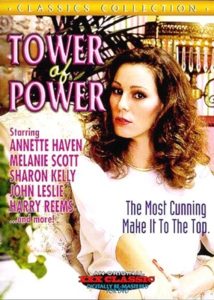 ---
In one work day, George Thompson enjoys buxom escort Lilly, Linda Casey helps husband Hugh's career by sleeping with boss Fred Kingsley, whose wife Stella sleeps with stepbrother Gabe, who also sleeps with competitor Claudia Wilson.

Well-shot on film by Gary Graver, TOWER OF POWER is porn with a whole lot of story, limning the power struggles and backstabbing in corporate executive suites. It's not a spoiler to warn you that there is no ending, but instead a cliffhanger (right out of night-time soaps, which it vaguely resembles) as evidently a sequel was planned but never made.

Angel stars as the wife of corp. executive John Leslie, and pic opens with them humping in bed. Annette Haven proves her acting chops as a conniving executive and Leslie's ex-girl friend. A board meeting sets up the central premise: R. Bolla announces that somebody is involved in corporate espionage, and the traitor will be found out and dealt with.

Janey Robbins is Bolla's shrewish wife, jealous of his affair with his secretary. Yet we are treated to her patented deep throat technique on Bolla. Haven is domineering, bossing her live-in boy friend sub Herschel Savage, and plot's romantic concatenations include Robbins having incestuous sex with her half-brother Savage, as he murmurs "we're not kids anymore" and romantic music plays.

Angel in sexy undies humps Bolla as the novelty tune "Mr. Big Shot, Show Me What You've Got" plays. Sharon Kelly, soon to become Colleen Brennan in this transition from soft-core career to the hard stuff, humps another exec Harry Reems, who doesn't have much of a role to play. He ends up finking on Haven, she being the traitor, while Angel's bedroom efforts earn hubby Leslie a promotion to v.p. Even as traitor, Haven's possession of 20% of company stock leaves her poised for a big showdown, but we'll never know what happens.
|
Cheating Notes
---
---
---