---
Kacper, who works as a foreman, has an affair with the wife of his best friend Oskar, also a miner. To meet his mistress, he assigns Oskar to the distant and dangerous coal seams. As the lovers enjoy their rendezvous, Oskar gets buried underground, so they throw themselves into a rescue mission.
|
Cheating Notes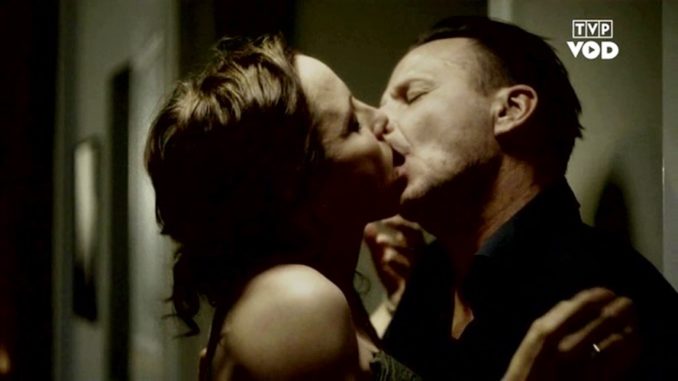 Someone knocks on Magda's door. When she opens it, she finds Kacper outside. He is the best friend and boss of her husband, Oskar, and she is having an affair with him. She comes forward to kiss him but stops when she realizes that someone is with him. Kacper tells her that her husband got buried underground.
In a flashback scene, Kacper, Oskar, and Magda are partying at the couple's house. They drink, fool, around, have fun. Oskar gets drunk and dozes off. Magda and Kacper put him to bed and then they hang out and eat cake in the kitchen. The sexual tension is evident between the two. Kacper starts to leave to avoid something sexual happening between him and his best friend's wife. But then he changes his mind at the door and comes back. She pulls Magda (who has taken her top off and is now in her bra because she thought that he left already) towards him and starts kissing her. Magda kisses him back and they fuck on the floor.
In another flashback scene, Kacper sends Oskar deep in the dangerous coal seams so that he can have more time to fuck Magda. With Oskar out of the way, he comes to the couple's place and fucks Magda. We see him remove her panties and lower down her dress and suck her nipple and the scene cuts off. Then, the movie resumes when they are done fucking. Kacper receives a call about Oskar and his team having problems down in the mines. He starts to leave but Magda plays around with him and tries to prevent him from leaving.
In the latter part, Kacper is communicating with the trapped Oskar down in the mine through a radio and a microphone and it seems that he can only respond with morse codes by banging the pipes. I'm not sure because of the lack of subtitles but it seems that Kacper is confessing to him that he fucked his wife. Later, when Magda comes and it's her turn to talk to her husband on the radio, Oskar doesn't respond anymore, suggesting he may have died knowing the fact that she cheated on him. In fact, hearing his friend's confession may have taken away his will to live and survive down in the mines. Very sad.
Summary
Short but sweet cheating scene of the wife with her husband's friend right after they put him to bed. You can feel the sexual chemistry and tension between the two while they are eating cake. Oskar tries to bail out at the last moment but I guess he really got horny at his best friend's wife so he comes back to fuck her on the floor while his best friend is sleeping soundly.
Watch Trailer
THE IRON BRIDGE dir. Monika Jordan-Mlodzianowska_trailer from Ewa Domeredzka on Vimeo.
---
---
---