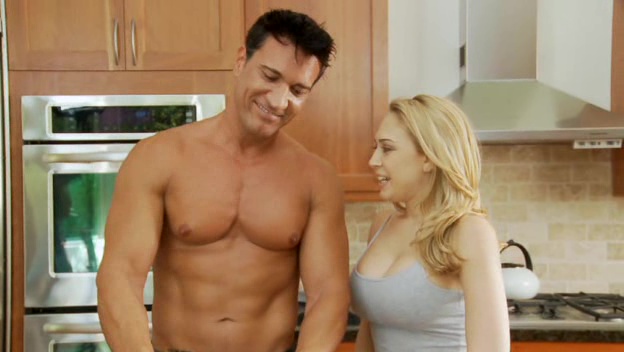 Description
Six couples swap wives for a tv show to experience how the other couple lives. Unlike the tv show that it parodies though, the swapping in this video knows no limit and extends up to the bedroom.
Details for the movie Official Wife Swap Parody
Director: Quasarman
Starring: Sara Sloane, Julia Ann, Bobbi Starr, Kagney Linn Karter, Rebeca Linares
Country: USA
Swinging Scenes in Official Wife Swap Parody
Some of the wives here are hot. Personally I like Bobbi Starr and  Kagney Linn Karter, but the others are sexy as well.
Jack and Diane Hughes / James and Latasha Jones
White couple Jack and Diane Hughes (the milf Bobbi Starr) swap with black couple James and Latasha Jones.
Diane is interested in African anthropology, the contribution of African culture throughout the century but what she really wants deep down is a plain big African cock. Lucky for her because she is paired with the black guy James.
One night, Diane sits beside James wearing a sexy see through lingerie. she tells him she needs to be dominated by a big powerful gangster. She sucks his dick and screws him.
Joey and Marie Spallone / Richard and Barbara Frampton
Gangster Joey Spallone and his wife Marie (Sara Sloane) swap with suburban nice couple Richard and Barbara Frampton (Julia Ann).
Marie shows Richard her unsophistication, like washing her clothes in the swimming pool or punching Richard's business associate in the face. Richard scolds her. She makes it up to her by giving him a blowjob and fucking him in the couch. Great fuck by the way and Marie's adlibs are hilarious.
Joey treats Barbara like a gangster treats her bitch. He even makes her work in his ice truck. Thus, it's his son Rob who is getting on her good side. So when Richard confesses that she screwed Marie, Rob advises her to get back at him. Barb tells him his father is not even there. Joey says, well "I'm here." So as soon as she says "I guess" Joey attacks her, and they have sex.
Steve and Edie Whitaker / Enrique and Gloria Banderas
Farmers Steve and Edie Whitaker (the hot Kagney Linn Karter) swaps with Mexican couple Enrique and Gloria Banderas (Rebeca Linares).
From the moment Enrique steps in the Whitaker's home, he immediately puts his moves on Edie, gives her flowers, appreciates her beauty and puts his arm around her.
Meanwhile, Gloria spits on nice guy Steve because he didn't take his shoes off when coming in. Steve hopes Edie and Simon are going a lot better, but he need not worry about that, because at that moment Enrique is massaging his wife's bare feet and legs using lotion.
Enrique teaches Edie how to cook. Edie asks if there is anything she can do to help. Enrique says yes, and that's to give him a blowjob. Edie looks at the camera crew and asks if they can do that (I like how she looks at the camera). Enrique says sure they can, because her husband Steve is probably making love to his wife Gloria at that exact moment (not really). Edie says ok, and she gives him head while he's cooking. Then he teaches her how to dance and they have sex.
Gloria teaches Steve dancing and insults him when he makes mistakes and spits at him again. She goes straight to fucking him since she says if he cannot cook, dance  and massage, then he better satisfy her in bed. Well at least he did perform ok in bed and she likes it.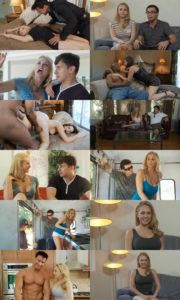 More info for the movie Official Wife Swap Parody
Caution: Aside from additional information for the movie Official Wife Swap Parody, the links below may contain download links. I am not responsible how you will use them.
IMDb Info: IMDB
Info + Watch Online: Xvideos.com CD1
Info + Watch Online: Xvideos.com CD2