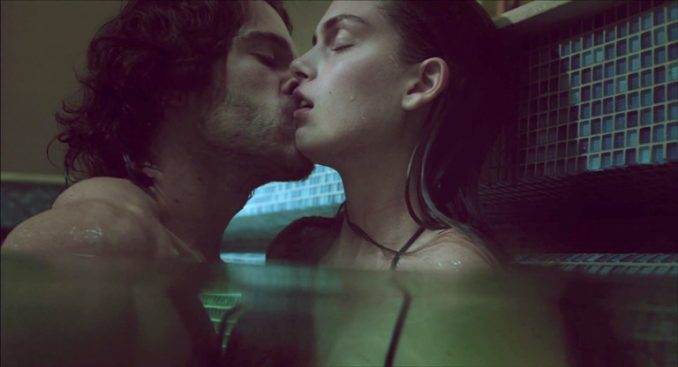 Description
Emma, an emerging model, struggles to enter the Parisian fashion scene and develops a dangerous obsession for fashion photographer Shane White.
Details for the movie The Model (2016)
Director: Mads Matthiesen
Starring: Maria Palm, Ed Skrein, Yvonnick Muller
Genre: Drama
Country: Denmark
Language: English | Danish | French
Cheating Scenes in The Model (2016)
Emma leaves her hometown (where she has a boyfriend) to do modeling in Paris. On her first photo shoot, the photographer (Shane) doesn't like her work and tells her to pack up early. This threatens her entry into the modeling world.
That night, Emma chances upon Shane on a nightclub. She makes a move by inviting him to dance and then she makes out with him on the dance floor. But she pushes him away after a few seconds, seemingly realizing that she has a boyfriend.
On the next day, Emma is told by her agency that she's back in the game. Apparently, her smooching Shane on the dance floor worked and he specifically requested her to be on his next project.
Emma has sex with Shane after a dinner party at his house. That's after she told her boyfriend via video chat that he can't go visit her in Paris because she's too busy. In the next weeks, Emma hangs out with Shane and we see them have sex at least one more time.
Emma makes out with Shane in front of her boyfriend
This is a very erotic scene for me.
Emma's boyfriend makes an unannounced visit to her place. She is not too happy, of course, given that she's currently bonking another dude at the moment. At her roommate's egging, she reluctantly takes him to the nightclub where she made out first with Shane. Of course, Shane is there that night. She introduces her boyfriend to Shane as just her "friend" from home.
Shane invites Emma, her boyfriend, and her roommate to sit with them. Emma sits beside Shane while her boyfriend, who has become suspicious and is carefully observing them two, sits across them.
Shane puts his hand around Emma's shoulders, then starts kissing her on the side of her neck. Emma looks at her boyfriend with a guilty look, but she does not stop Shane from having his way with her. Then, even if she knows that her boyfriend is looking, she actually turns her head towards Shane, parts her lips, and kisses him back. Her boyfriend stands up violently and leaves the table. Later, Emma admits to him that she had been seeing Shane these past few weeks. He leaves Paris the next morning.
So now, Emma is officially broken up with her boyfriend from back home and is now the girlfriend of Shane.
Emma cheats on Shane with a Chanel executive
Shane brings Emma to an overnight stay-in party at a friend's castle. First, there's the dinner where the host tells his guests to kiss and make out with their dinner partners because it is their tradition and is a way to loosen up the guests and be open to new friends. I'm not sure how they were paired up, but Emma and Shane have different partners. So Emma makes out with her partner when she sees that Shane has no problem making out with his.
In the course of the night, Shane neglects Emma and spends most of the time talking to an ex-girlfriend. While sitting alone on a sofa, Emma is approached by a guy named Sebastian. When he introduces himself as a Chanel executive, her eyes lit up, because she has a dream of becoming a Chanel model. This creates an opening for Sebastian. He tells her to go change into her swimming attire and invites her to go swim with him at the pool. Emma is reluctant, but hey, with Shane seemingly fooling around with his ex somewhere in the castle, and a chance to become a Chanel model if she gives some favors to this guy, she accepts his invitation.
Emma comes to the pool first, wearing a two-piece. Sebastian arrives a little later and makes his intentions known to Emma outright (which is to fuck her) when he takes off his robe and lets Emma see that he is not wearing anything at all underneath it.
Sebastian gets into the pool and starts coming towards Emma. She expresses her hesitation again and tells him that she's not sure if they should be doing it. He just silently continues moving forward then he kisses her in the mouth. Slowly, she starts kissing back. He proceeds to fuck her from behind while she leans on the side of the pool.
In the morning, Shane tells Emma that he played pool with friends last night and fell asleep on the couch, contrary to her accusation that he slept with his ex-girlfriend. Shane seems to tell the truth, so Emma tells him the truth, too: that she fucked Sebastian in the pool. Shane confronts and punches Sebastian and leaves the castle by himself.
Final Thoughts
The most erotic scenes for me are the ones where Emma makes out with Shane in front of her boyfriend. Also, the part where she lets Sebastian fuck her from behind in the pool while Shane is somewhere in the castle playing pool with friends and falling asleep on the couch (according to him).
More info for The Model (2016)
IMDb Info: IMDB