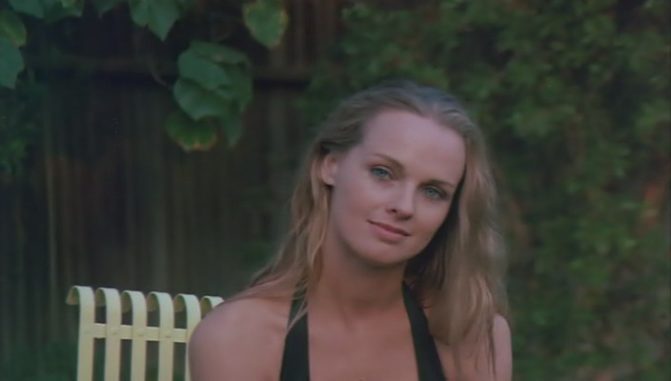 Description
18-year-old Sean's first summer after completing high school is much spent with 28-year-old teacher Diane, whose husband is too often motorcycle-racing instead of with her. Wacko Ralph also has "the hots" for Diane; and it doesn't help that Sean was with Ralph's younger brother, Lou, when Lou died.
Details for the movie The Teacher (1974)
Director: Howard Avedis (as Hikmet Avedis)
Starring: Angel Tompkins, Jay North, Anthony James, Marlene Schmidt
Country: USA
Cheating Scenes in The Teacher (1974)
Diane's (Angel Tompkins) husband is out there somewhere motorcycle-racing, leaving her home alone for quite some time now. She has developed a crush on Sean, her student and at the same time her neighbor and the son of her friend Alice. Well, the feeling is mutual as Sean also fancies her.
One time, Sean and his friend Lou peep on Diane while she is sunbathing topless on her boat. This leads to Lou accidentally getting killed, caused indirectly by Ralph, Lou's brother and Diane's stalker.
One day, while having lunch beside the pool in Sean's house, Diane invites him to her house to get the parts that he needs for his car and to help her clean the garage. Sean's mom is there with them and seems nonchalant about the potential 'Mrs. Robinson situation' that her son will be in if he comes along with Diane in her house.
Sean scores
When Diane and Sean are at her house, she asks him why he always runs away every time she asks him over. She says she likes him. He replies he likes her too. She tells him to prove it by kissing her. First, he kisses her on the cheek. She asks her "What was that?" Then she points to her lips. He kisses her on the lips, then he excuses himself out to the garage.
Diane takes a bath, then she puts on her robe and calls Sean to get inside her room. She starts massaging his back, then starts kissing him in the neck. Sean tries to get away, but she stops him, telling him that she hasn't made love to anyone since her husband went away, and she wants to do it with him because she trusts and like him. So, they start kissing. Diane opens up her robe, exposing her breasts to Sean and goes on top of him. They fuck very briefly, since both cum too fast, but it seems that they are both satisfied.
The next day, they fuck on Diane's boat.
Diane's husband calls home
After Diane and Sean just finished having sex at her house, Diane's husband calls. Sean answers it. Diane's husband is happy to hear his voice and isn't worried or suspicious why Sean is in their home and answering their phone. Perhaps it's implausible in his mind that Diane would even think of fucking their neighbor's young kid. Sean gives the phone to Diane. He gets jealous when she hears Diane telling her husband "I love you." so he leaves. Hence, he doesn't hear Diane telling her husband that she is going to divorce him.
Final Thoughts
One of the 70s cheating wife movie that I like, primarily because of Angel Tompkins' hotness. Her pretty face is up there with the likes of Jacqueline Bisset, etc. Her cheating scenes make me wish I was as lucky as Sean during my student years and was able to bang hot teachers or neighbors' wives as well.
More info for The Teacher (1974)
IMDb Info: IMDB
Info + Download Link: Rarelust.com