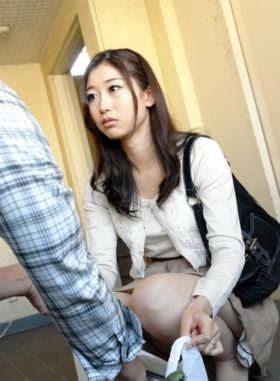 Description
Married woman Natsume catches the eye of the man next door. She can't get him out of her head, so she lets her guard down and tempts him sweetly. She drops her house key in front of his door to have an excuse to talk to him. They start to fall for each other and leave the rest to nature. They lose themselves in wordless, intense, indulgent sex. When her husband leaves for a business trip, they get totally absorbed in slow, sticky sex.
Details for the JAV MDYD-755
Other Titles: MDYD755 Inagawa Natsume Married Lost My Key, Lost Your Keys? Hot Married Woman Natsume Inagawa, Inagawa Natsume Married Lost My Key, Married Woman Who Drops Her Key
Director: Tameike Goro
Starring: Natsume Inagawa
Genre: JAV
Country: Japan
Cheating Scenes in MDYD-755
Note: Watched without subtitles.
The wife (Natsume Inagawa) literally bumps into her hunky next-door neighbor on their floor's hallway one day. The neighbor apologizes and helps her picks her stuff up. When he sees her face, he can't help but be mesmerized and he stares at her face far longer than necessary. The wife walks away towards her unit, but then she turns around and gives him a little smile, suggesting she might also find him attractive.
That night, the wife is fucked by her husband. He doesn't hold on for too long though, he cums prematurely and goes to sleep afterward which leaves the wife sexually unsatisfied. In this state of frustration, the wife recalls the deep stare that her neighbor gave her earlier.
Natsume drops her key in his neighbor's front door.
In the morning, the wife decides to drop her house key in front of her neighbor's apartment. Then she rings his doorbell and runs and hides in the corner. When he comes out, she pretends to have just arrived and walked past him while he just silently observes her.
When the wife is in front of her door, she searches for her key inside her purse and makes it obvious to her neighbor that she's lost it. This is a queue for the neighbor so he approaches her and gives her the key. The wife thanks her and invites her inside her house (Alright! Way to go Natsume, you reserved slut).
The wife offers her neighbor some tea. They both drink tea on her dining table silently. There is an awkward feeling in the air because the guy is quite reserved too, like the wife. Since she can't drop her reserved persona just like that and he can't be too assuming to assess that she wants more than just offer him tea, he has to say goodbye to her and go back to his unit.
After he has entered his apartment, the wife comes out and drops her key in front of his door the second time. She rings his doorbell again and runs towards her unit. The neighbor comes out, picks up her key and enters the wife's place using it. Inside, he sees the wife sitting on her bed, waiting for him. I guess he can get a clue. This time, he's quite sure what the wife wants him to do. He comes rushing inside her bedroom. She stands up to receive him and they kiss.
The wife and her neighbor fuck in the bed. He licks her nipples and fingers and eats her pussy. She sucks him and does a 69-er with him. She sits on his face while he licks her cunt and then she rides him. He pounds him from both front and behind and finally cums on her belly.
That night, the wife recalls her sex with her neighbor and masturbates beside her sleeping husband.
Natsume gives her neighbor a blowjob just before her husband arrives from work
One early evening, the neighbor comes home and finds the wife's key in his doorstep again. He picks it up and enters the wife's place. She is waiting for him at the kitchen/dining area and her husband is not home yet. She kneels and gives him a fine blowjob while he is standing and leaning on the kitchen top. He cums in her mouth and the wife spits some of his cum on her hand.
The neighbor comes out of her place and when he is about to enter his own place, the husband arrives and they greet each other. If the husband had arrived only a few minutes earlier, he would have seen his wife kneeling on their kitchen floor and sucking their neighbor's dick.
Natsume's husband goes away on a business trip
The next morning, the wife sends her husband off for a business trip. As soon as he disappears in the corner, the neighbor comes out of his unit and embraces the wife from behind. She smiles because her husband going away for a business trip means longer fun time for her and her neighbor.
The wife and her neighbor take a shower together. They soap and dry each other with towels. Then they give each other fellatio/cunnilingus in the hallway area of her house. They transfer to the bedroom and continue fucking. He cums in her mouth once again.
In the final scene, the neighbor comes out of his unit one morning. The wife comes out next from her own. When she sees him, she dangles her key in front of him and smiles meaningfully.
Final Thoughts
I love how the wife is acting all reserved and shy, yet she's the one making all the moves for her and her neighbor to hook up. She tries to maintain her non-slutty persona by giving the ball back to him aka let him make the next move. She invites him inside for a tea and waits for his move and not throws herself at him. Only when he doesn't do a thing because he's unassuming that she makes a move again, a clearer one this time (by waiting for him on her bed) but still not downright slutty.
More info for JUX-791
Download or Watch Online in HD: R18.com