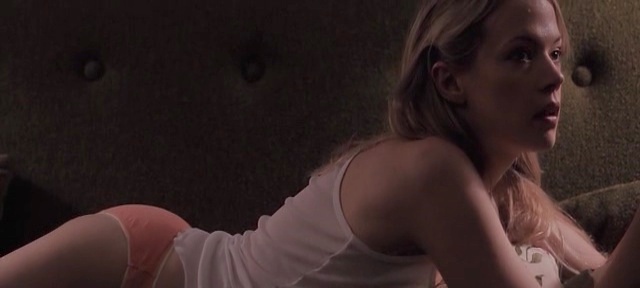 Description
After a devastating betrayal, two brothers return to the underground fight club scene in New Orleans and prepare to battle to the death.
Details for the movie Brawler (2011)
Director: Chris Sivertson
Starring: Nathan Grubbs, Marc Senter, Pell James
Genre: Drama
Country: USA
Cheating Scenes in Brawler (2011)
The brothers Charlie and Bobby are underground MMA fighters. Bobby is the younger one and the one who gets a lot into trouble. One time, Charlie comes to his rescue when he gets in trouble with a group. This costs Charlie a leg and he has to stop fighting and get a job as a construction worker because of it.
Bobby crashes at Charlie and his wife's place
One day, Bobby comes to Charlie's house while Bobby is at work and only Kat, his wife, is around. Bobby asks Kat if he can stay and sleep there because he needs it. Kat says ok. In the evening, Charlie comes home and Kat tells her that Bobby is there. It's ok with Charlie since he loves and trusts his brother. So from that day onwards, Bobby lives with the couple, and with Charlie going to work every day, that means lots of alone time with Kat. Billy gets closer to his sister-in-law.
Kat drinks with Bobby the first time
One night, Kat and Bobby are drinking at the dining table. Bobby is shirtless. It seems that they've been at it for quite a while based on the number of empty beer bottles in front of them (around 15).
Boy, if my wife is already comfortable drinking alone with a shirtless guy (whether it's my brother or not) with this much beer, I'll be a little bit alarmed. But Charlie does not seem bothered at this point. When he arrives, Kat stands up and gives him a kiss while Bobby looks on.
Charlie asks Kat how many beers she's had. She tells him "Don't be like that." Bobby adds that "It's cool, that he just wants to hang out with his sister-in-law." Charlie seems cool with it and joins them.
That night, Charlie fucks Kat. Bobby can hear Kat's moaning from the living room and is probably aroused and jealous.
Kat drinks with Bobby with her blouse unbuttoned
The next time Bobby and Kat drink together, her blouse is open all the way and her red bra is fully out. She even lies down on the couch in front of Bobby, thereby giving him a full view of her sexy bra.
They are drinking some kind of concoction instead of beer this time. They talk about marriage and other stuff.
Kat looks in the direction of Bobby, then she stands up. She takes the jar of alcohol and takes it to Bobby's spot to refill his glass. I think it's just an excuse for her to get physically closer to Bobby. Kat is standing right in front of the seated Bobby with her blouse open, refilling his glass, when suddenly, somebody (Walter) comes in at the door without knocking. Bobby gets surprised and exclaims "Fuck!" If Walter didn't come in, something sexual would have probably started between the two.
Bobby talks to Walter outside the house. Walter tells him "Not Bad…" referring to Kat. Bobby tells him "Hey, that's Charlie's wife." while pointing towards the direction of the house.
Bobby finally fucks his brother's wife
One night, Charlie takes Bobby to work as a waiter in a private party. Bobby fucks it up again and leaves before Charlie. When he arrives home, he finds Kat lying on the sofa with only her panties on and a transparent sleeveless shirt that shows her poking tits.
Kat gets up and tells him that she will put some clothes on. Bobby stops him and offers him some alcohol, then he starts ranting about how she ended up with his stupid brother.
Kat gets depressed listening to him so Bobby asks him what's wrong and comes closer to him. Kat answers him that 'she doesn't know why she ended up with his brother." They laugh at this, and the next thing you know, Bobby starts kissing Kat. She responds and kisses him back and they start making out. He pulls her panties down, makes her sit on the table and fucks her.
Without a warning, Charlie arrives and catches them in the act. He pulls Bobby out from his wife and the two brothers tussle. Their fight extends outside the house. After their neighbors stop them, Charlie challenges Bobby to a fight in the underground scene.
Kat has to move out of Charlie's house. Later in the movie, she comes to talk to Charlie to try to stop him from fighting Bobby in the ring because he is not worth it. Charlie replies "Yeah, but it's worth to fuck him inside our home?"
More info for Brawler (2011)
IMDb Info: IMDB
Info + Torrent Download Link: Torrentz2.eu