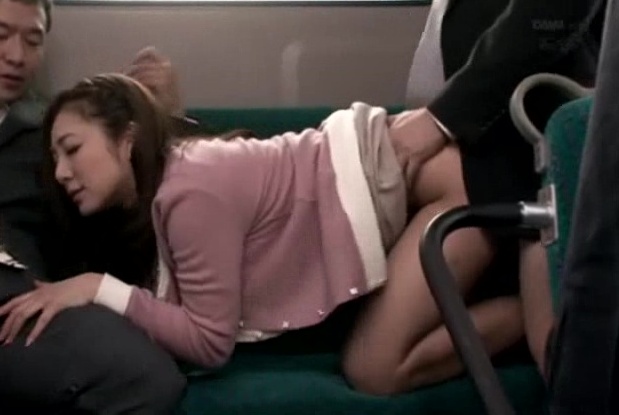 Description
Minori Hatsune should be happy, but somehow she feels unsatisfied in her daily life because her husband doesn't satisfy her sexual needs. Her once chance encounter with a molester would screw up Minori's fate and sexual desires, and awaken this formerly virtuous wife's hidden lust. See this big titty wife's perversion spin out of control with her desire to be molested as she obeys the ever more extreme cravings of the evil molester.
Details for the JAV IPZ-354
Other Titles: IPZ354 Wearing No Underwear Bra Busty Wife Hatsune Minori You Would Like To Molester
Director: K.C. Takeda
Starring: Minori Hatsune
Genre: JAV
Country: Japan
Cheating Scenes in IPZ-354
Note: Watched without subtitles.
The wife gets groped the first time in a bus
In the first scene, the wife, Minori is sending her husband off to work and cleaning the dining table. Then she rides the bus to go somewhere. She is standing and her back is against another guy's back.
The guy behind her starts attempting to make his hand come in contact with Minori's butt. He makes several attempts and when she is too timid to cause a scene, he turns around towards her and starts grabbing her butt in a bolder way.
Minori doesn's shout or anything because she is too reserved, so she just attempts to shove the hand of the guy or pulls down her skirt which the guy is trying to lift up. But she is doing it so gracefully and with little force, that sometimes her hand even lingers on the guy's hand for some time, which makes it look like she is even guiding him. It looks very erotic.
The guy's groping only stops when Minori gets off the bus.
The wife researches about gropers in bus or trains
Minori tries to initiate sex with her husband during the night, probably because she got aroused by her groping experience. The husband is tired, however, and rejects her. So she gets up and just spends her time googling molesters in bus or trains.
She finds out that groping is pretty common and sees pictures of hot women getting molested in buses or trains and it seems that some of them are letting it happen.
The wife lets herself get molested
The next day, Minori decides that she wants to get groped again. She wears a sleeveless blouse and a mini skirt. She takes off her wedding ring, leaves home and then takes a bus.
Minori is also standing on this bus. As expected, pretty soon, someone gets close to her and starts molesting her. Although she is still a bit hesitant, she lets this guy have his way more than the first one. The guy is able to insert his hand between her blouse and fondle her boobs and finger her pussy. And to top it off, the guy inserts his calling card between her blouse and tells her to contact him.
The wife contacts the guy, he tells her not to wear undies next time
The wife texts the guy using the calling card that he gave her. They agree to meet in a certain bus and I assume he tells her not to wear any underwear. Minori does that but she puts on a coat to cover her poking tits. She leaves her wedding ring again and rides the bus.
The same guy molests her, then she gets off the bus with him. They go to a building and fuck on a stairway landing. He licks and sucks her big boobs and fingers her while her back is against the wall. He eats her out and bangs her while she's sitting on top of a very small table. She sucks him kneeling down and he screws her from behind while she leans on the wall. Finally, he doggy styles her while she's using the little table as support and he cums on her buttcheek. She cleans his dick after with her mouth.
The husband wants to have sex but it's the wife's turn to reject him
During the night, it is the husband who tries to have sex with Minori this time. But since she was properly fucked earlier by another man, she doesn't really need any from her husband right now so she guides his hands towards his dick and tells him to jerk off instead. I guess this is also her revenge to him for rejecting her the other night.
The wife sucks five businessmen
I don't know how it gets here, but suddenly, Minori is with five men wearing business suits in an empty warehouse. She basically just sucks them while kneeling down amidst them, while they get to fondle her boobs and body. I like the ending part where she sucks and makes the men cum one after the other. After one man ejaculates into her open mouth, she quickly moves on to the next and does the same thing to him, too. The fifth men's cum is so powerful that it overshoots into her face, which gives a very good climax to the scene.
While fixing her dress, one of the guys approach Minori and propose something to her, which gives way to the next scene below.
The wife has a threesome at the back of the bus
Minori rides the bus again and this time, two guys (who are among the five she sucked earlier) bang him at the long seat at the back of a bus. Minori has become a very eager slut wife here. Every time one of the guys gets his dick or his mouth close to her, she quickly receives it with her mouth to either suck or kiss. It's the usual threesome action here. I like the part where Minori is in a cowgirl position on the chair and she is blowing one guy while the other guy is fucking her from behind.
After their threesome, Minori has this very satisfied and naughty smile on her face.
The wife fooling around is good for the couple's relationship
During night time, the husband wants to have sex with Minori and she happily obliges her. They start making out and looks like they're going to have sex, but it isn't shown anymore.
But it's too late for the husband to do anything about his wife's newly-found source of pleasure, though. Because the next day, Minori is preparing herself again to go out and ride a bus, braless and pantyless and without her wedding ring as usual.
Verdict
This is the first time I watched Minori Hatsune and she grew on me while I was watching this. She is pretty and has huge, natural-looking boobs. She doesn't get fully naked in any scene and yet she manages to make them very erotic. Now that's some talent. She is also not whiny in any of the scenes, which is good because whining, which is a common phenomenon in JAV movies, is quite irritating to me.
The scene where she sucks and makes five men cum on her open mouth one after the other is very hot.
I like the wife's progression from reserved to full-on slut. In her first groping experience, she is very reserved and resistant, but in the last threesome scene, she is very eager and attacks any dick or mouth that gets close to her face quickly and ferociously.
More info for IPZ-354
Watch or Download in HD: R18.com