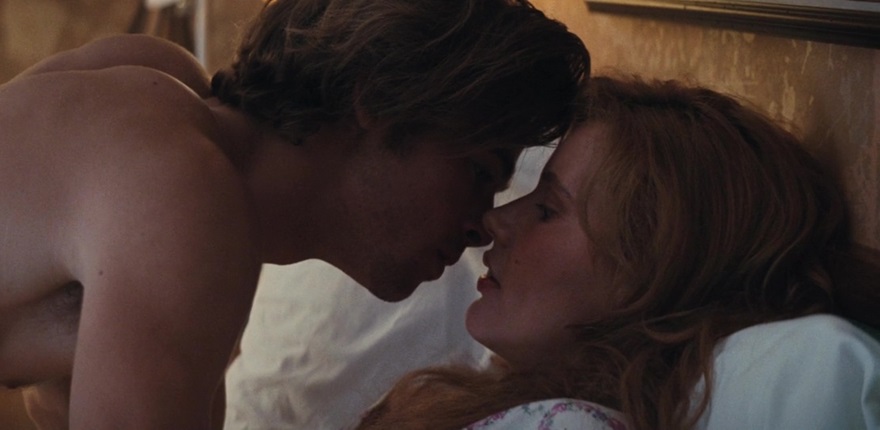 Description
Louise is working in a diner as a waitress and has some problems with her boyfriend Jimmy, who, as a musician, is always on the road. Thelma is married to Darryl who likes his wife to stay quiet in the kitchen so that he can watch football on TV. One day they decide to break out of their normal life and jump in the car and hit the road. Their journey, however, turns into a flight when Louise kills a man who threatens to rape Thelma. They decide to go to Mexico, but soon they are hunted by the American police.
Details for the movie Thelma & Louise (1991)
Director: Ridley Scott
Starring: Susan Sarandon, Geena Davis, Harvey Keitel, Brad Pitt
Country: USA
Cheating Scenes in Thelma & Louise (1991)
Thelma bangs a hot drifter.
Thelma (Geena Davis), a housewife who needs a break from her unappreciative husband, joins her friend Louise (Susan Sarandon) on a road trip. They meet a young drifter named J.D. (Brad Pitt) along the way and they give him a ride. They part ways when Thelma and Louise (and Louise's boyfriend) check in at a hotel. But later in the evening, J.D. comes knocking on Thelma's hotel room. She lets him in after hesitating for a bit. They play around a bit, he tells her stories about his robbing spree, then they kiss and have sex.
The next day during breakfast, Thelma looks very happy in front of Louise. She shows her the kiss marks on her neck made by J.D. and shrieks out loud. Then she proceeds to tell her how great the sex was with J.D. Louise tells her that she's happy for her because she finally got laid properly. But she isn't so happy a few moments later when they find out that J.D stole their money.
"I like your wife"
Later, J.D comes across Thelma's husband at a police station and tells him "I like your wife" in a meaningful tone and then winks at him. The husband gets what he means and attacks him but is restrained by the policemen. J.D. laughs at the husband then taunts him by doing the fucking motion (thrusting his hips forward then back), like visually demonstrating to him how he fucked his lovely wife.
Thelma nearly gets raped
In the earlier part of the movie, Thelma and Louise go to a cowboy bar to eat and have some drinks. A guy starts hitting on Thelma and she is receptive to him. Thelma allows the guy to dance close and be feely touchy with her on the dance floor. He even gets to hug her from the front and from behind.
Thelma suddenly doesn't feel good so the guy leads her to the parking lot so she can get some air. There, the guy starts making sexual advances on her. She doesn't want it, telling him that she's married, so the guy starts raping her. He makes her lie face down on the trunk of a car. Then, he spreads her legs wide open, lifts up her skirt, pulls her panties down and starts to fuck her from behind (not seen if he is able to penetrate her). It abruptly ends because Louise comes to Thelma's rescue and stops the guy from totally raping her.
More info for Thelma & Louise (1991)
IMDb Info: IMDB
Info + Torrent Download Link: Torrentz2.eu