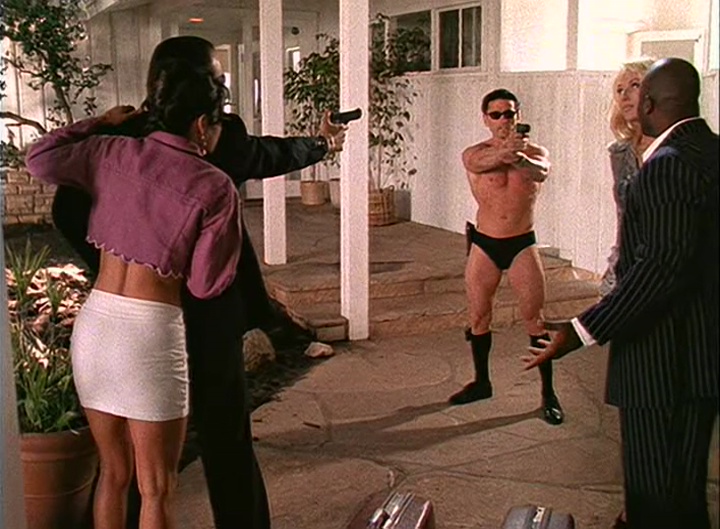 Description
Mob boss Vincent has to send his wife to Malibu together with one of his henchmen so that he can have some time for his mistress. There, the henchman and his wife start an affair. Eventually, another one of his henchmen also starts an affair with his mistress. Vincent is not completely left out of the cold as two hot maids comfort her.
This porn parody makes homage to Pulp Fiction (via the surf soundtrack and the two gangsters in the intro talking about pies instead of quarter pounders) and Italian gangster movies.
Details for the movie Mobster's Wife (1997)
Director: Paul Thomas
Starring: Lexus Locklear, Vince Vouyer, Alexandra Silk
Country: USA
Cheating Scenes in Mobster's Wife (1997)
There are three cheaters here. The first two are the mob boss' wife (Alexandra Silk) and the mob boss' mistress (Lexus Locklear). The third one is the fiancee of a gangster from another mob (she cheated with the mob boss).
Vincent, the mob boss, sends his wife to Malibu together with his white henchman. Meanwhile, Vincent, his mistress and his black henchman go to Las Vegas for a business meeting with other mob bosses. Vincent bangs a chick who is hanging out alone in the hotel casino. The next day, he finds out that she is the fiancee of a mob guy, who happens to be a son of a bigger mob boss and they are going to be married that day. The bride stops her own wedding and admits to her groom that she had sex last night with Vincent.
Vincent's wife, meanwhile, joins the white henchman in a night swim in an outdoor pool naked. She makes an advance towards him. White henchman reminds her what Vincent will do to him if he bangs her. Wife tells him not to worry since he's three thousand miles away, so they bang away.
The next day, white henchman wakes up in the villa bed with Vincent's wife beside him. They're both naked. He comes downstairs naked and is surprised to find Vincent there along with his black henchman and his mistress, pretending to be the black henchman's girlfriend. Vincent asks for his wife. White henchman fumbles and goes upstairs. He is about to tell the wife about Vincent but she is quick to offer him a blowjob while sitting in the toilet. White henchman couldn't resist so he lets her suck him a bit. Then he makes her jump from the second floor so that it wouldn't look like she came from his bedroom but we didn't get to see that.
All of them dine outdoor. While Vincent is talking, his wife's hand is trying to caress white henchman's thigh while his black henchman is trying to caress his mistress's thigh under the table. Both white henchman and mistress shove their hands away.
At night, the black henchman and Vincent's mistress have to sleep in a room together to keep the facade that they're a couple. Mistress wants black henchman to sleep on the floor. Black henchman makes an advance towards her but it seems that mistress is intent on being loyal to Vincent at this point. She starts to go soft when he says she's the most beautiful woman he ever saw in his life. When they are lying beside each other, she kisses him, sits on his face and he starts eating her out.
Vincent comes to their door and vaguely hears their dialogue. Wife comes up too to check if they really are a couple. Vincent has to hide in a cabinet in the hallway. Wife hears their moaning and she is convinced and proceeds to white henchman's bedroom. White henchman asks her where Vincent is. Wife answers "Fuck Vincent," and mounts him.
Vincent comes again to black henchman and mistress' room but didn't knock. He knocks on white henchman's door. White henchman has to let the wife out of the window. He opens the door and Vincent asks him if his wife is inside.
Wife enters black henchman and Vincent's mistress' room. She sits in front of them and watches them while using two dildos (for each of her hole) to pleasure herself.
In the hallway, Vincent tells white henchman that he thinks his wife is cheating on him and that he is gonna whack the guy who is screwing his wife. Of course, white henchman discourages him because he is that guy.
Inside, black henchman approaches wife in the chair and makes her suck his dick while he's standing up. Wife joins them in the bed eventually.
Vincent goes outside the villa and tells the twin maid "I wonder what my wife is doing right now." As soon as he says this, the next scene shows us the black henchman's cock going inside Vincent's wife asshole while the wife is exclaiming "Big cock in my ass? Oh my god.. oh my god.. aaaahhh!"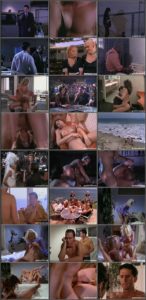 More info for the movie Mobster's Wife (1997)
Caution: Aside from additional information for the movie Mobster's Wife (1997), the links below may contain download links. I am not responsible how you will use them.
IMDb Info: IMDB
Info + Download: xxxvintage-home.blogspot.com